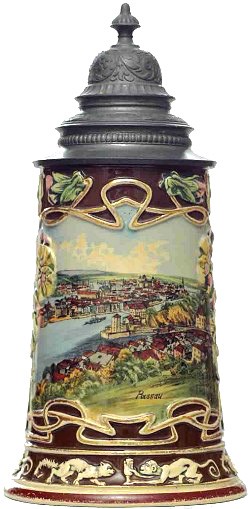 Stein with impressed mark #5095 (2), undecorated body supplied by Marzi & Remy.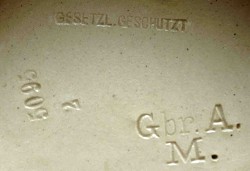 Featured stein, above, almost certainly manufactured by Marzi & Remy, due to 5095 number.


G.A. touchmark on hinge assembly on porcelain stein.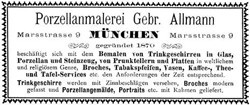 Porzellanmalerei Gebr. Allmann
Marsstrasse 9, München. Founded 1870.
We deal with the painting of drinking vessels in glass, porcelain and earthenware, ceremonial dishes and plates in secular and religious genres, brooches, tobacco pipes, vases, coffee, tea and table services, etc. in the latest styles. Drinking vessels are fitted with modern pewter lids,
brooches with modern settings
and the porcelain is painted, portraits etc.
are supplied with frame.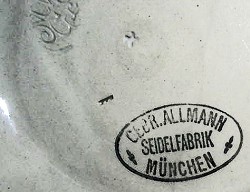 Ink stamp on Merkelbach & Wick brewery stein
"Dampf Bierbrauerei der Stadt Einbeck A.G."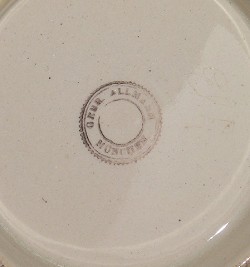 Ink stamp basemark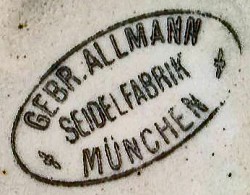 Ink stamp on Hacker Br
ä
u - Brewery Stein.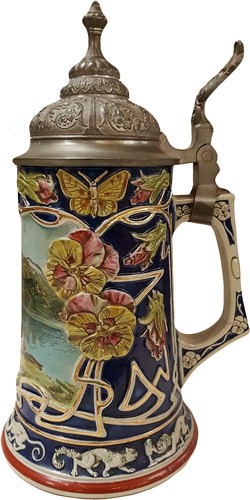 Made by Marzi & Remy #5095 (16)
decorated by Gebrüder Allmann.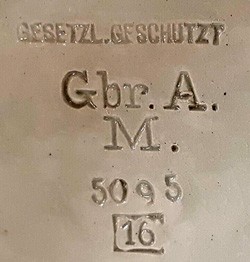 Basemarks on the featured stein above.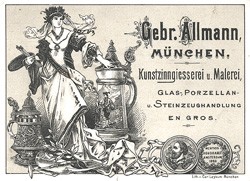 Advertisement
dated 1905