Johann Rohre
r
Burggasse 6, Klagenfurt am Wörthersee, Carinthia, Austria
Glas und Porzellanlager / Glas and porcelain outlet
Johann Rohrer`s father (also named Johann) was trained to run a Master Glazier's shop at Burggasse 6 in Klagenfurt in 1851. Johann jun. was born on August 13th, 1858 in St.Veit an der Glan/Carinthia, and was married on January 8th, 1884 to Maria Moro from Ljubljana (today in Slovenia). He died on December 10th, 1917 in Klagenfurt. His son Johann (born on October 27th, 1884 in Klagenfurt and who married on January 25, 1915 in Vienna with Pauline Wesely, ran the business after his fathers death until the 1930's.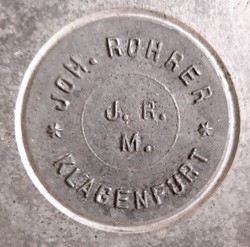 Cast mark on the underside of the lid of the featured "UB" stein. The J.R./ M. is the mark for Jakob Reinemann, a pewterer of Munich.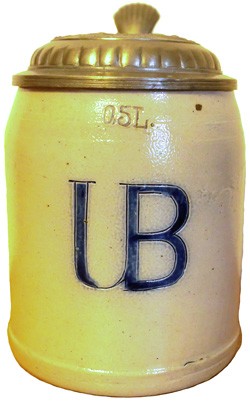 Stein from the brewery of Hans Oblasser in Unterbergen (UB) near Klagenfurt, circa 1910.

" Johann Rohrer / Glass u. Porzellanlager, Burggasse".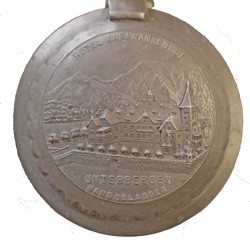 The brewery owner Hans Oblasser in Unterbergen also ran the Hotel "Karawankenhof", which can be seen on the pewter lid.