Thannenstraße 27, Dusseldorf, North Rhine - Westphalia.
t/a Thanscheidt's Militär und Marine Andenken
Vendor of Military and Marine Souvenirs
Known Dates:1910
Steins supplied by: Simon Peter Gerz
Reference: Dusseldorf Adressbuch 1,   Adressbuch 2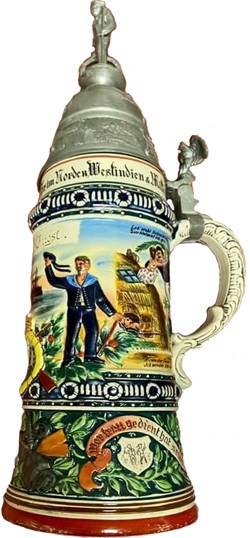 S.P.Gerz, Navy Reservist stein 1 litre. "Wer treu gedient hat seine Zeit, dem sei ein voller Glas geweiht." (Who has faithfully served his time, to him a full glass is dedicated.)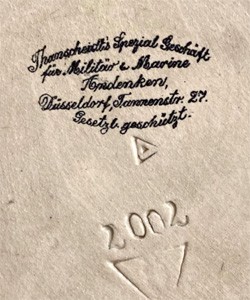 "Thanscheidt's Spezial Geschäft für Militär und Marine Andenken,Dusseldorf, Tannenstraße 27. Gesetzlich Geschützt."