E. Neunreiter & Sohn (Witwe)
Tränkgasse 7, (shop) and Fritzgasse 10 (warehouse), then Rue de l'Abreuvoir 7, Straßburg, Elsaß-Lothringen, German Empire (1871 - 1918).
Now Strasbourg. Alsace, France.
Glas und Porzellan Lager / Glass & Porcelain Warehouse
Founded in 1865 by E. Neunreuther, the company was being run by his widow on the 7th April 1899. It is as yet unknown what happened to the company after this date. Their Rue de l'Abreuvoir premises, built in 1902 were empty by 1994. It is now occupied by an organisation called Centre Européen d'Actions Artistiques Contemporaines. (CEAAC).
Purchased steins from: Villeroy & Boch - Mettlach. Sachsenglas
Reference: Rue de l'Abreuvoir today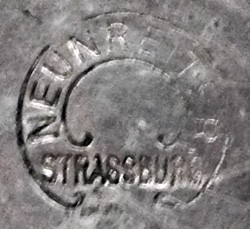 Pewter touchmark on the underside of the lid on a Sachsenglas stein.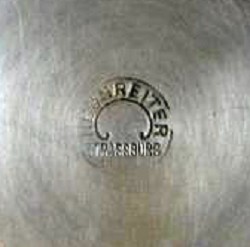 Pre 1918 pewter touchmark on the underside of the lid on a Mettlach stein.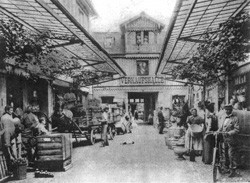 Fritzgasse 10, Straßburg, Elsaß-Lothringen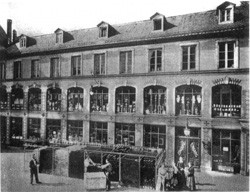 Tränkgasse 7, Straßburg, Elsaß-Lothringen
Rue de l'Abreuvoir 7, Straßburg, Elsaß-Lothringen