Franz Stöckicht(1) & H. Stoll Nachfolger Inhaber Franz Stöckicht(2)
(1) Bismarckstraße 31, & (2) Markt 6, Hansestadt Greifswald, Vorpommern-Greifswald. West Pomerania (now part of the State of Mecklenburg - Western Pomerania.)
Glas-, Porzellan-, Lampen- und Luxuswaren-handlung / Shop selling glass, porcelain, lamps & luxury goods.
Known dates: 1904.
Purchased stein bodies from: ?
Reference: Adressbuch Greifswald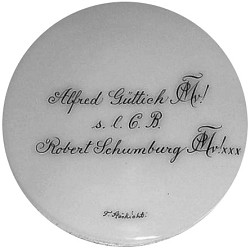 Underside of featured lid insert (centre top)c/w artist's signature.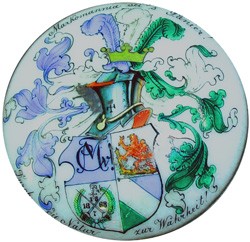 "Markomannia sei's Panier""Durch die Natur zur Wahrheit"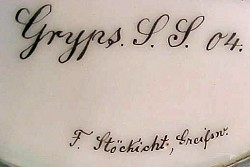 Artist's signature on the underside of the lid of a student stein, dated 1904.