One litre transfer decorated stein, made for export.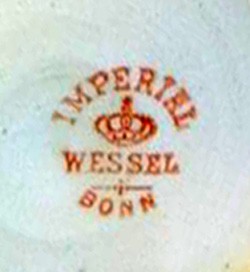 Basemark on the featured stein above. This mark was for export designated production.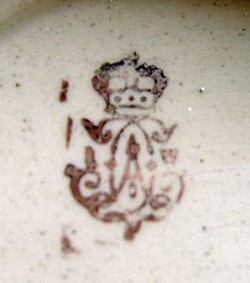 Ink stamped mark dated 1875 - 1900.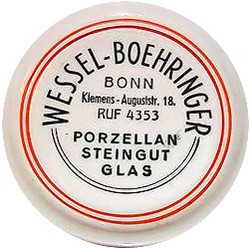 Post war plate, manufactured by Johann Seltmann of Vohenstrauss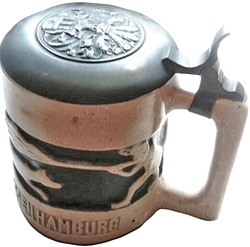 Stein commemorating the 16th Deutsches Bundesschiessen Hamburg 1909.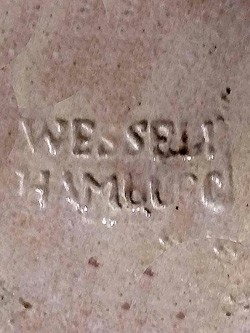 "Wessel, Hamburg" The author can find no Wessel / Wessell in the Hamburg address books for 1909, so is confused as to the Hamburg mark.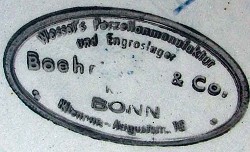 Wessel's Porzellanmanufaktur Boehringer & Co. K.G. mark from a Marzi & Remy stein with the painted design "Guards Division (Rhein)" dated after August 1945, until 1970.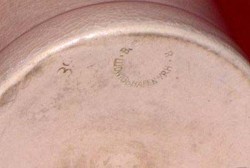 Another Boehringer mark. ×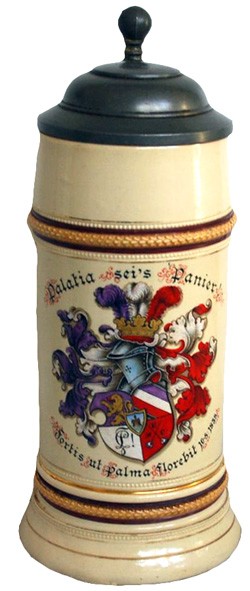 Corps Palatia, Bonn. "Palatia sei's Panier" "Fortis ut Palma Florebit". 1/2 litre stein.Date of establishment of this association: 10/08/1838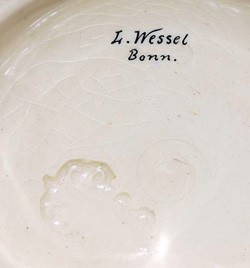 Ludwig Wessel signature, together with impressed Wessel mark on student stein above.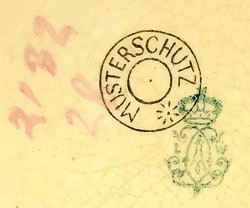 Base marks on a water pitcher. Dates assumed to be 1875 - 1900.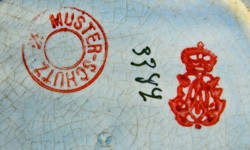 Ink stamped mark dated 1875 - 1900, on coffee cup & saucer set.