Peter Weisbrod / Peter Weisbrod Witwe / Julius Röhn / Julius Röhn, vorm. P. Weisbrod
Hauptstraße am Markt c44, Untere Straße d198, d126 & 20, Mittelbadgaße, Hauptstraße 119, Heidelberg. Baden. (now Baden-Württemberg)
Zinngießer / Pewterer
In 1842, Peter Weisbrod founded his pewter shop, in his own premises at Hauptstraße am Markt c44. (This was the part of the High street fronting onto the Marktplatz ). He moved the business in 1846, to Untere Straße d198 and subsequently in 1848, to Untere Straße d126. By 1852, he was located just off the Marktplatz in Mittelbadgaße, opposite the "Unicorn" pub (This pub had changed owners and also the name to the "German Oak" by 1863). Peter Weisbrod then purchased Untere Straße 20, in 1865, and traded from there, until his death in 1885. His widow continued the business as Peter Weisbrod Witwe until 1904. She did however, sell the freehold of Untere Straße 20, to one Philipp Fuchs in 1903. Her last entry in the listings was 1906.
Meanwhile, a new pewterer, Julius Röhn, had set up business in 1902, at Hauptstraße 119. By 1905, he had purchased the business of Peter Weisbrod Witwe and became Julius Röhn vorm. P.Weisbrod. In the same year he became a Zinngießermeister / Master Pewterer. He had moved his business to Untere Straße 20 by 1909, and by 1921 he had purchased back the freehold, from Philipp Fuchs. In 1930, after 25 years, the company name was simplified to Julius Röhn. Julius Röhn died in 1936, as Untere Straße 20 is listed as ownership under Röhn Julius, Zinngießer Erben (pewterer's heirs). By 1943, Untere Straße 20 had been sold to one Alb. Haussmann, a merchant. There are no further known listings.
Reference: Heidelberger Adressbücher Zinnfiguren-Bleifiguren
Mark on underside of lid on featured stein.
Unknown stein with Weisbrod lid complete with Zwerge thumbpull.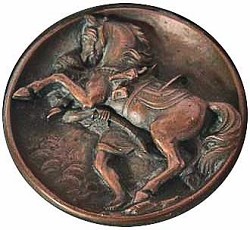 Insert on topside of lid on featured stein.