Reinhold Görnemann / Reinhold Görnemann Nachfolger / Inhaber Paul Görnemann
Rheinstraße 6, 7 & 12a, Ringstraße 8, Höhr, Hesse-Nassau, Prussia. (now Höhr-Grenzhausen. Rhineland Palatinate).
Glas und Porzellanmalerei / Glass & porcelain decorator
Founded circa 1912 at Rheinstraße 7, although by 1921 his address was listed as Rheinstraße 6. He had moved by 1925 to Ringstraße 8. Circa 1932 he was joined by his sons, Paul & Rudolf. By 1939, Reinhold had died, Paul appears to have started another business at Adolf Hitler Straße / Rheinstraße 12a, which was still in business in 1961.
Rudolf remained at Ringstraße 8.
Purchased steins from: Reinhold Merkelbach
Reference: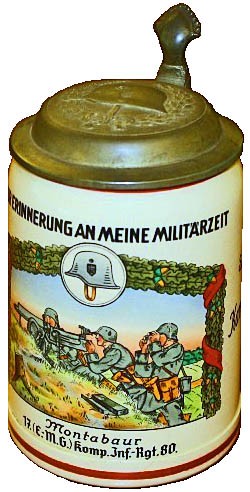 "Commemorating my Military Service". 17th Machine Gun Company, 80th Infantry Regiment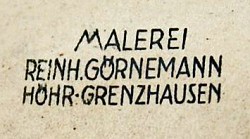 Artist's handwritten mark on featured stein above.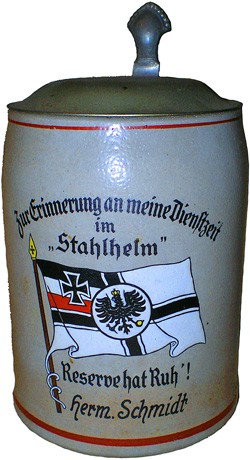 Stein made by Reinhold Merkelbach "Commemorating my period of Service in Stahlhelm". Stahlhelm, Bund der Frontsoldaten (Steel Helmet, League of Frontline Soldiers) was a paramilitary organisation formed in 1918. It was forceably absorbed into the Nazi machine between 1933 and 1935. Use of the old Imperial flag on this stein indicates the pro- Royalist character of the organisation.
Basemark of the featured stein above.