Königliche Majolika & Terrakotta Werkstätten Cadinen
Cadinen, West Prussia. (Now called Kadyny, Poland.)
Kunst-Töpferei / Art Pottery.
Pottery owned by Kaiser Wilhelm II and set up in the gardens of the Royal Summer Palace around 1905.
The pottery lost its Königliche prefix, due to the abdication in 1918. It closed in 1944, due to the Russian Red Army advance and mass expulsions of the German speaking population.
References: Wikipedia Cadinen Pottery
Impressed factory mark, together with year and decoration number.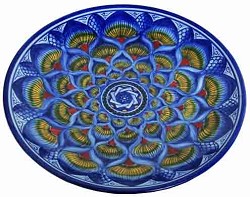 "Prunkteller" or Display plate, dated around 1930.