Theodor (Herrmann) Schmuz-Baudiss
Herrnhut bei Zittau, Saxony ● Schwabing, Munich, Bavaria ● Charlottenburg, Berlin, Prussia ● Saarlandstraße, (post 1936, Garmisch-) Partenkirchen, Bavaria.
Entwerfer & Modelleur / Designer & Modeller

Theodor Herrmann Schmuz was born, on the 4th August 1859, the middle of three children into a Protestant working class family, in Herrnhut bei Zittau, Saxony. Showing very early promise, he trained as a painter, from April 1879, at Munich's Royal School for Arts & Crafts under Professor Adolf Lier, who became both friend and mentor. Between 1882 and 1891 he attended the Royal Academy of Art in Schwabing, Munich, during which time he was mixing with Bavarian royalty. On the 1st May 1891, upon leaving the academy, he was awarded a diploma, just in the name of Theodor Schmuz. After this he adopted his mother's surname as well, to become Theodor Schmuz-Baudiss. Living in Adalbertstraße, he rented a studio from the Academy and in spite of financial difficulties, he married Adolf Lier's niece, Wilhelmine Rosalie Anastasia Trenkl on the 15th May 1893, after which time they moved to Lederergasse. She proved to be a moral strength to him throughout his career. They subsequently had a daughter, Elizabeth Theodora Rosalie on the 20th January 1895. In 1896 he was one of the first illustrators of the magazine "Die Jugend" (The Youth), from which the word "Jugendstil" (Art Nouveau) derives.
In the same year he turned his back on fine art, to work in ceramics and became an early member of the "Vereinigte Werkstätten für Kunst im Handwerk" (United Workshops for Arts in Crafts), formed on the 13th April 1898, where he was able to exchange ideas with Herrmann Obrist (1862-1927), Peter Behrens (1868-1940) and Richard Riemerschmid (1868-1957). During this time he experimented with stoneware, earthenware and porcelain as well as other mediums, such as bronze, embroidered fabrics, wooden furniture and glass in the Art Nouveau style. He was strongly influenced by Chinese and Japanese porcelain, but also followed the ideas from artists working for the porcelain manufacturers in Stockholm and Copenhagen.His approach to art using different materials and exceeding the then known technical boundaries, was considered revolutionary. During the winter of 1898/99 he worked in the Scharvogel Kunsttöpferei where he again learnt new techniques in stoneware and especially glazes. He joined Swaine & Co. in 1899, where he designed and modelled the complete porcelain service which won him the Silver Medal at the 1900 Paris World's Fair.
Because of that, he took up a position, on 1st February 1902, in the "Print under Glaze" department at the Königliche Porzellanmanufaktur in Berlin, where he quickly became manager. In 1906 he was appointed Art Director by Kaiser Wilhelm II, who had very fixed conservative views on art. Theodor therefore reluctantly set aside his own creative style to conform to the Kaiser's need to demonstrate Germanic glory. Becoming a company director in 1908, his management role together with the task of modernising the workshop meant he had less time for hands-on creation. Over the years, at several exhibitions, he introduced more and more modern artistic concepts, but was under constant criticism, from the Ministry of Commerce, which led to falling out of favour with the Kaiser. In 1914, he created a modern range for the Cologne exhibition of the "Deutscher Werkbund" (German Work Federation). However this was never produced, due to the start of World War 1. There was little production during the war, with Kaiser Wilhelm inclined to close the factory. However it remained open, with the strict instructions to only produce Rococo or classical Germanic styles. Theodor co-operated, in spite of a lack of coal for the kilns, in order that skills were not lost and to keep the remaining employees in work. After the war, conditions improved very slowly. With the Kaiser gone, Germany was still politically isolated and export sales were extremely difficult. Theodor therefore aimed to produce modern, internationally acceptable designs. So he consulted with many acclaimed designers and artists, and also encompassed ideas from both the Bauhaus and Vienna schools. Only this way, was he able to recover the market position of the now renamed Staatliche Porzellanmanufaktur of Berlin.
Meanwhile in 1915 he had purchased a house at Saarlandstraße, Partenkirchen, Bavaria where the family spent their holidays. By September 1924, then aged 64, Theodor requested early retirement, to fulfil a desire to retreat back to nature and to renew his love with painting on canvas. In April 1925 he and his wife settled permanently in Partenkirchen. He designed for Rosenthal as a freelancer during 1926 and 1927. He died in Garmisch-Partenkirchen on 20 June 1942.
He also designed for Königlich Bayerisch Porzellanmanufaktur Nymphenburg
References: Uni-Stuttgart Helena Horn Catalogue of Work Catalogue of Work at K.P.M. Walt Vogdes Berliner Adressbücher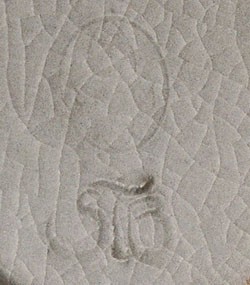 TSB mark together with faint Scharvogel Kunsttöpferei, München mark on featured stein. Made during the winter of 1898/99.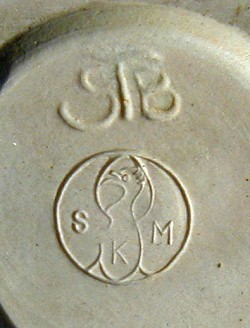 Complete with Scharvogel Kunsttöpferei, München mark. Made during the winter of 1898/99.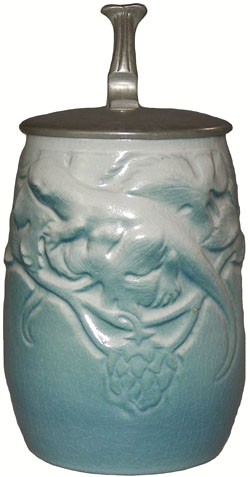 Low relief "Salamander" design, with variably tinted green glaze, running from a lighter top to the darker bottom. Made during the winter of 1898/99.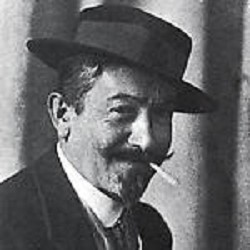 Theodor Herrmann Schmuz-Baudiss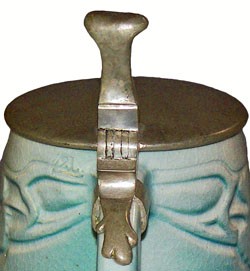 "Paw" design on pewter strap mounting used on a number of lids provided by Josef Reinemann for the Scharvogel Kunsttöpferei München.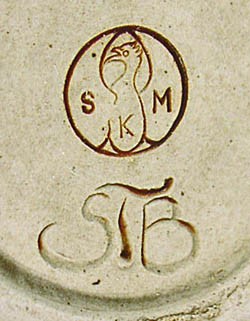 Complete with Scharvogel Kunsttöpferei, München mark. Made during winter 1898/99.