Karl Dersch (& Sohn e.K.) (Inhaber Karl Johannes Dersch)

Promenadestraße, Kurpark 11, Achenfeldstraße. 14a, Garmisch (now Garmisch-Partenkirchen). Bavaria.
Glaserei und Zinngießerei. Glas- und Porzellangeschäft. Glaserei und Bildrahmung / Glazer and pewterer. Glass & china shop. Glazing and framing.
Founded by Karl & Julie Dersch on the 24 March 1902 in Promenadestraße. In 1920 they moved to Kurpark 11 to open a glass and china shop. In 1980 they moved again,
this time to Achenfeldstraße 14a, to create a glazing and framing shop. The fourth generation of Dersch's are now working in the company.
Purchased steins from: ?
Reference: Karl Dersch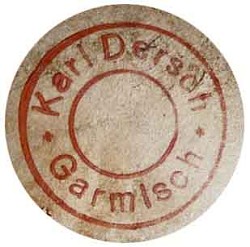 Ink stamp on featured stein, denoting Karl Dersch, Garmisch. N.B. The villages of Garmisch and Partenkirchen had only just been merged earlier ln 1936 to become Garmisch-Partenkirchen.
Gebirgs-Jäger Regiment 99. 2 Kompanie Garmisch - Partenkirchen Christmas 1936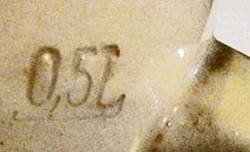 0.5 Ltr. capacity mark on featured stein from unknown manufacture.