Glas- und Porzellan-Manufaktur Theo Kühn ( Inhaber Klaus Kühn) (Theo Kühn e.K.)
München-Milbertshofen, then München-Garching, then Am Stückberg 2, Burgwindheim, Bavaria.
Porzellan und Glasmalerei / Porcelain & Glass decorators.
Founded as a family business, applying transfers, then silk screen printing to bought-in items, for resale, by Theo in 1958 in München-Milbertshofen. As the business expanded they moved to München-Garching, followed in 1984 by further expansion to a factory in Burgwindheim. Theo retired and was succeeded by Klaus on the 1st January 1998, then again by Theobald on the 14th September 2005. The factory closed sometime afterwards, with the product rights being sold to 'Merkle & Sykora G.m.b.H., Neu-Ulm in Baden-Wuerttemberg who continue to sell items listed as Theo Kühn on the Merkle & Sykora website.
Reference: Porcelain Marks & More
Impressed capacity and, and as yet unknown maker's mark on featured stein, shown right.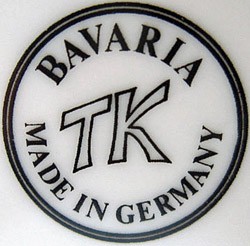 Stein basemark, dated post 1990.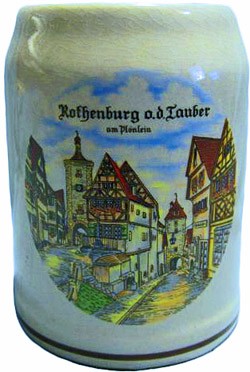 Transfer printed souvenir stein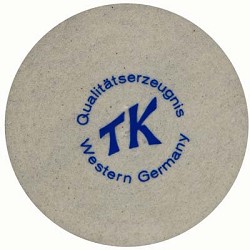 Transfer base mark, dated 1990 and before.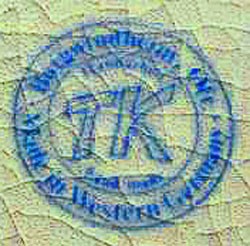 Ink stamp on featured stein, showing the Burgwindheim address, dated 1984 - 2005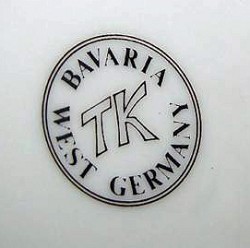 Ink stamped mark on stein, dated 1958 - 1990.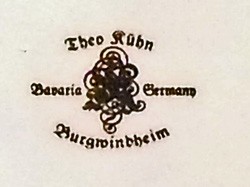 Ink stamp on showing the Burgwindheim address, dated 1984 - 2005