Bailey Walker China Co. / Walker China Co.
24400 Solon Road, Bedford, Ohio. United States.`
Manufacturer of Vitrified China, Hotel Ware, White and Underglazed decorated, for Hotels, Restaurants, Clubs, Churches, etc.
Messrs. Albert M. Walker of Akron and Henry Bailey of Cleveland Heights, began production of china in the old Bedford China Works on the 7th May 1923. The Bailey Walker China Co. was incorporated with $150,000 in capital, with Walker as president and Bailey as vice president and general manager. The company expanded and in 1942 became the Walker China Co. with Albert's son, Herbert M. Walker becoming a vice-president. Herbert's son, John eventually joined the sales department. By 1963 the work force had grown to 200, but in 1967 the family sold the company to outside interests. The company had various owners, ending in 1981, when it was listed as the no.2 factory for the Mayer China Co. of Beaver Falls, Pennsylvania. In 1979 there was an issue about on-site waste disposal for which a licence was never issued, contributing to the cessation of production and the closure of the factory on the 31st March 1981.
References: BedfordOhioHistory Walker dates Ohio EPA
.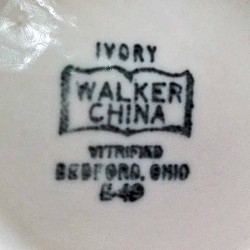 Ink stamp on featured tankard. Mark dates this to February 1949.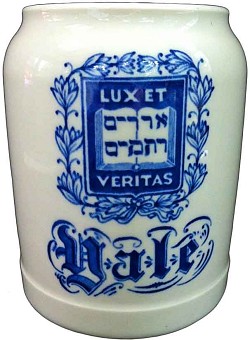 Yale tankard with the Yale University motto "Lux et Veritas" or "Light and Truth" , dated February 1949.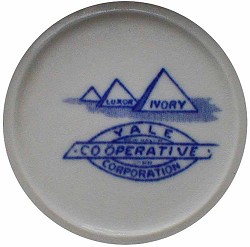 This mark is dated between 1923 and 1942. The Yale Co-operative Corporation refers to an exclusive contract with the Student Association, for Bailey Walker to sell on campus, "Luxor Ivory" tankards and other items to students via the Yale Co-op at 300 York Street, New Haven. CT.