William Brunt Pottery Co. / Phoenix Pottery
East Liverpool, Ohio, United States.
William Brunt Snr. left the oppression and starvation of the English pottery districts for America and freedom late in 1842. He came by the way of New Orleans and thence up the Mississippi River to the central part of southern Illinois. In East Liverpool he opened a public tavern, on the southwest corner of the public square, at Third and Market Streets, which he kept for a considerable period of time. Having been a potter, seeing the business developing around him,eventually returned to this form of industry. In 1847 with his two sons, William Junior and Henry, along with his brother-in-law Bloor, Mr. Brunt built a small pottery at the northeast corner of First Street and Peach Alley. Here these men began the manufacture of brown, jet and "Scroddled" door knobs. The term scroddled means, in the old Staffordshire dialect, marbling or streaking in the body of the ware. The factory is thought to have closed prior to the turn of the century.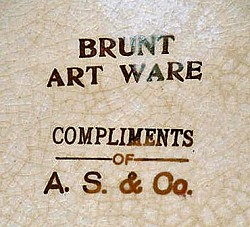 Ink stamp on the base of top featured stein. identity of A.S. & Co. is currently unknown.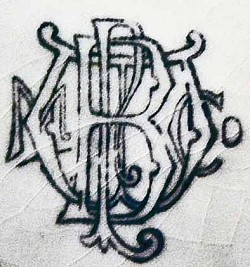 Ink stamp on base of lower featured stein.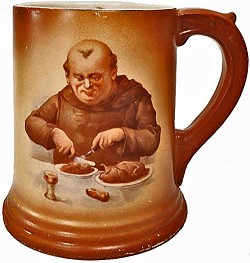 One of a series of steins featuring monks eating and drinking.
Another of a series of steins featuring monks eating and drinking. N.B.This handle is unique to this pottery.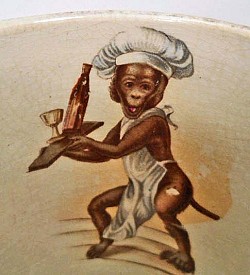 Funky monkey on the inside of the top featured stein.