Heinrich Baensch Inhaber Gustav Becker / Porzellanfabrik Lettin G.m.b.H., vormals Heinrich Baensch

Factory: Schiepziger Straße, Lettin, a suburb of Halle an der Saale. Prussia (now Saxony-Anhalt).
Warehouse & Sales: Poststraße 12, with the entrance in Rathhausgasse, in 1888.
Porzellanmanufaktur. / Porcelain manufacturer

Heinrich Baensch was born 27th August 1830. His factory, manufacturing porcelain tableware, was founded in 1858. Heinrich was known still to be in charge in 1883. Heinrich's son Alfred succeeded his father, but took the business into bankruptcy in 1931, after which time it was owned by Gustav Becker. It was nationalised and merged with V.E.B. Colditz in 1946. The factory ceased production and closed in 1990 at the reunification of Germany. The buildings are now a car dealership.
Reference: Lettin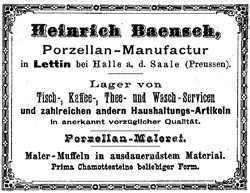 Advertisement featured in the Ceramical Address Book of 1883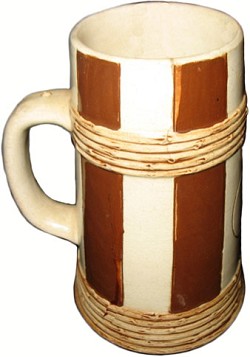 This crude straight sided barrel stave design, dated 1931 - 1939, is very similar to those sold by Otto Buhlmann 30 miles away in Leipzig.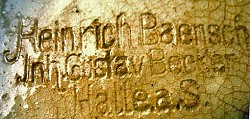 This base mark is on the featured stein.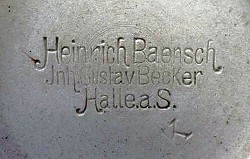 Base mark on a V&B- M #1526 style, lidless stein.