Friedrich Moritz Erdmann
Hermersdörfer


Leipziger Straße 428, Innere Leipziger Straße 2, Nickolaistraße 9, Zwickau, Saxony
Zinngießerei. / Pewterer
Friedrich Moritz Erdmann Hermersdörfer was born in 1835 and was the son of the Zinngießermeister, Carl Gotthelf Hermersdörfer. In 1875 his business address was Leipziger Straße 428. From 1885 to 1895 he traded from Innere Leipziger Straße 2. From 1896 to 1902 he was at Nickolaistraße 9. He died in 1903, aged 68.
Known dates: circa 1875 - 1902
Purchased stein bodies from:
Reference: Genealogie Adressbuch Saxony Address books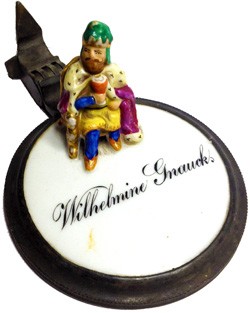 Stein with seven ring hinged lid, plus insert with dedication and Gambrinus seated on lid assembly.
Moulded glass stein c.1880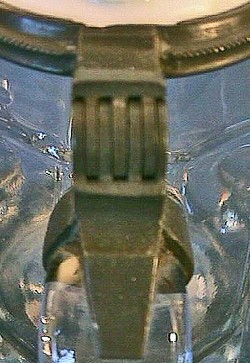 Blind seven ring hinge on lid of featured stein, centre.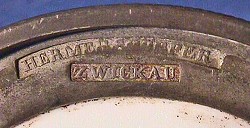 Cast mark on lid of featured stein, above.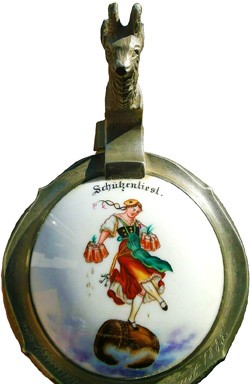 "Schutzenliesl" porcelain insert, dedicated "Remembrance 16th August 1885". Fitted five ring hinge.

Pewterer's touch mark on the underside of the pewter lid above.