WW Team - Bierkrüge & Geschenke G.m.b.H.
Eulerstraße, Krugbäckerstraße 16, Ransbach-Baumbach, Rhineland Palatinate.
Steinzeugfabrik / Stoneware manufacturer.
Exports to the United States via M. Cornell, Importers / Exporters, New York.
Known dates: ? to date
Reference: WW Team

The stein celebrates the fall of the Berlin Wall on the 9th November 1989. The "rock" finial is purportedly a piece of the wall.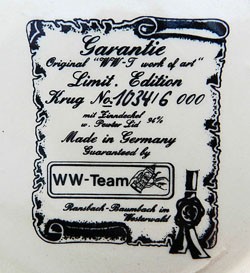 Base mark on the featured stein.