F.R. Boeckmann / P. Boeckmann


Tübingen am Neckar. Württemberg, (now Baden-Württemberg)

Zinngießerei. / Pewterer.

Assumed to be a decendant of Zinngiessermeister Peter Dietrich Boeckmann (b.1775 - d. 1838) Peter Dietrich achieved his master's status in 1802.

Reference: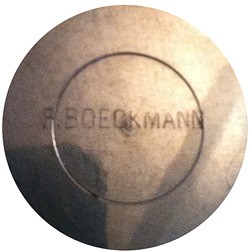 Thought to be "P" Boeckmann on the underside of a stein lid, which shows the student dedication date of 26th July 1898.