Gutermann
Marktplatz 4, Biberach, Württemberg. (now Baden Württemberg)

Geschirr Porzellan, Haushaltsgerate, Eisenwaren, Geschenke / Porcelain tableware, Household goods, Hardware and Gifts
Founded in 1537 as a needle forge, this company has been trading more or less in its present form and at the same address from around 1815. It is still trading today.
Steins purchased from: ?

Reference: Gutermann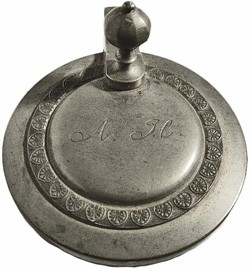 Lid on featured stein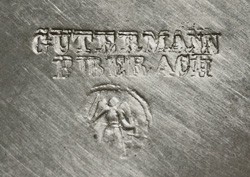 Pewterer's touchmark on the underside of the lid of the featured stein. The Angel is a purity mark indicating no lead in the pewter.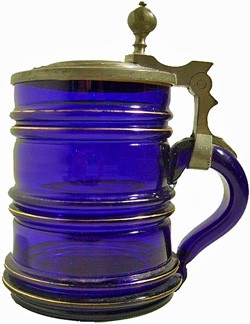 Blown Cobalt Blue glass stein. The handle attachment from top to bottom on glass steins indicates date prior to about 1875. It wasn't until after that it was learned that attachment from bottom to top was structurally more sound. Also no capacity mark indicating manufacture before 1875.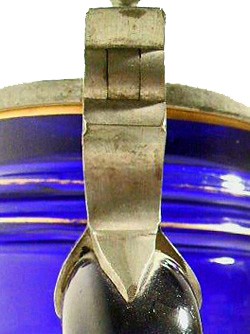 A three ring open rivet hinge, indicating date circa 1875.