Gottlieb Zergiebel

Röpsen bei Gera.
Principality of Reuss
(situated in the State of Thuringia since 1920)
Maler / Decorator?
The Zergiebel family had been well known in Röpsen bei Gera for many years. Johann Christian Gottlieb Zergiebel was born in Röpsen, 30th August 1800.
He married Johanna Christiana Panzer on the 22nd May 1823. He died, in Röpsen, 20th December 1888.

Gottlieb Zergiebel registered the DRGM 263664 on the 12th October 1905, where the lid assembly was fixed to the stein's handle by a screw, which acted as a hinge, and allowed the lid to be easily removed. This is known as the "Thüringer Deckel". The design was licenced for use by
B.Schuchert
of Fulda.
Reference:
Genealogy.net
Genealogy. net 2
Die Krugsammler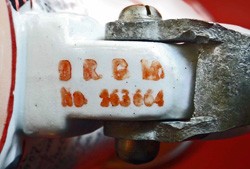 An example of a Thüringer Deckel attachment, in this case by B.Schuchert of Fulda.
Fünfte Beilage zum Deutschen Reichsanzeiger und Königlich Preussischen Staatsanzeiger.Nr. 268. Berlin, Montag, den 13. November 1905.Zentral-Handelsregister für das Deutsche Reich. (Nr. 268 B.) Gebrauchsmuster.64a. 263 664. Bierseidel, dessen Klappdeckelum einen in einer Bohrung des Henkels gelagertenStift drehbar ist. Gottlieb Zergiebel, Röpsen bei Gera, Reuss, 12. 10. 05. Z. 3750.64a. 263 664. Beer stein, whose folding lid is attached to a hole in the handle. Pin is rotatable. Gottlieb Zergiebel, Röpsen nr. Gera, Reuss, 12.10.05. Z. 3750.