Anton Schreiner's Söhne K.G.
Obertor 2-3, Nabburg, Bavaria
Founded in 1803 by Maximillian Schreiner. In 1882 the company won Hoflieferant status from the German Kaiser, Wilhelm, and in 1887 from, Otto, the Bavarian King.
The company is currently run by the sixth generation of Schreiners. They still produce pewter steins and vessels with pewter fittings.
Up until 2009 they also had a ceramics production facility. Glass steins are purchased from Bavarian manufacturers.
They do not have capacity marks because it it too expensive to get accreditation from the Bureau of standards.
Purchased stein bodies from: ?
Reference:
Zinn Schreiner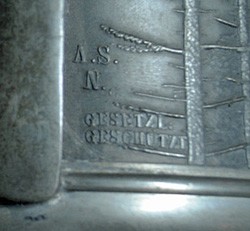 Anton Schreiner Nabburg. Gesetzlich Geschutzt on body, adjacent to handle bottom.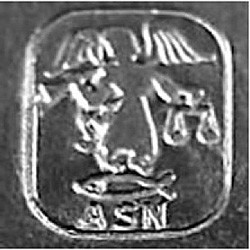 A.S.N for Anton Schreiner, Nabburg.