G.T.
Kellein (Witwe) / Christian Kellein
Maximilianstraße 9 then 15, Bayreuth, Bavaria

Zinngießermeister / Master Pewterer.

There was a Kellein at Hauptstraße 10, in 1820, which had been renamed Maximilianstraße by 1843. Gottfried Theodor Kellein was a Zinngießermeister by this time.
He died in 1874 and his widow Babette ran the business until at least 1884. By 1889 their son Christian, also now a Zinngießermeister, had located the business at
Maximilianstraße 15. By 1901, the name Maximilianstraße has been
shortened to
Maxstraße and Christian is no longer listed as a Zinngießermeister, but a P
rivatier (self employed?).
The year 1930 shows a change of address to
Dammwäldchen
2/11, and in 1937 he can be found at Heißingerplatz 2/11.
The street name Maxstraße reverted back to Maximilianstraße, postwar. No records exist beyond 1937.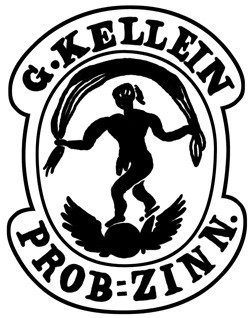 An alternative trade mark.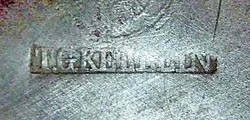 Theodore Gottfried Kellein touch mark on the underside of flat lid.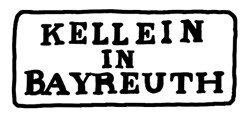 Another illustration of a trademark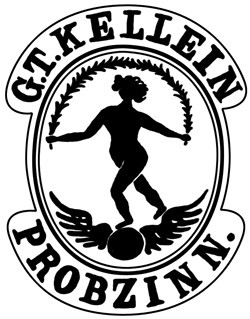 Illustration of trademark of Gottfried Theodor Kellein (b.1804 - d.1874) from Bayreuth, Bavaria. He had become a Zinngießermeister by 1843.