Georg Scheuerer
Eschholzstraße 52, Hugstetter Straße 104, Elsässer Straße 6, Freiburg im Breisgau. Baden (now Baden Württemberg)
Porzellanphotographie und Bierglasmalerei / Porcelain photography & Beer Glass Decorator
Georg Scheuerer was listed from 1910 without an advertised trade, at various addresses in Freiburg. In 1915 he founded his business at Eschholzstraße 52. It is assumed that Georg Scheuerer died circa 1932, because his son? Adolf was running the business in 1933 at Hugstetter Straße 104, opposite Freiburg University. 1934 saw the company revert to the listing Georg Scheuerer, but now trading from Elsässer Straße 6. The last listing was 1938.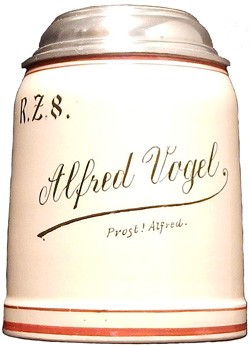 Villeroy & Boch - Mettlach 1526, circa 1933.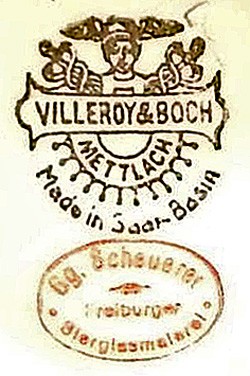 Villeroy & Boch - Mettlach mercury mark, dated 1921 - 1933."Gg. Scheuerer, Freiburger Bierglasmalerei",base marks on featured stein.