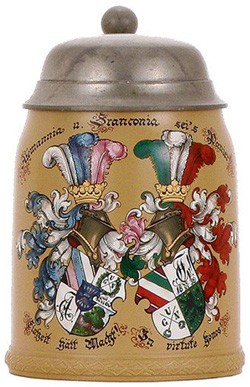 Villeroy & Boch - Mettlach, #1526, dated 1907
Twin student association stein,
"Alemannia und Franconia sei's Panier"
The twin "Wappen'' or coats of arms represent two of the four student associations, namely Corps Alemannia and Corps Franconia in Karlsruhe. The other two are Corps Saxonia and Corps Friso-Cheruskia. The members are students and graduates of the Karlsruhe Institute of Technology and the University of Karlsruhe – Technology and Economics.