Side view of featured stein, dated 1902.

Manufacturer's base mark on featured stein above, Simon Peter Gerz 1.


Regiment No. 5 Düsseldorf
5th Squadron Westphalian Ulan. 1899 - 1902.

Decorator's signature on the lower handle attachment of the featured stein.


Side view of featured stein.
(Unfortunately the mounted
Ulan is missing from the lid top.)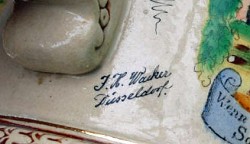 Signature of decorator on A.J. Thewalt based Regimental,
dated 1903.