Newspaper advertisement January 1937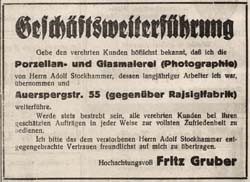 Continuation of the trade.
Dear customers, I am politely announcing that I will continue the porcelain and stained glass painting (photography) business of Mr. Adolf Stockhammer, whose long-time employee I was, at Auerspergstra
ß
e 55 (opposite Rajsiglfabrik). I will always strive to ensure full satisfaction of all revered customers in their confidential matters. I would kindly ask that the trust placed in the late Mr Stockhammer will be transferred to me.

Respectfully,
Fritz Gruber.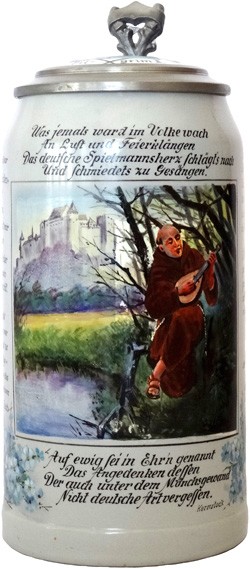 1 Litre, Villeroy & Boch - Mettlach #1526, blank, impressed 1929.
Since Gruber's
business founding date was in late 1936, this stein must have been decorated and sold between 1937 - 1938.
The text above and below the tableau is the poem by Ottokar Kernstock (b. 25th July 1848 - d. 5th November 1928) on the Monk of Salzburg. He also penned the

"Sei gesegnet ohne E
nde
"
or "Blessed be endlessly", which was the Austrian National Anthem between 1928 - 1938.
The decorator, F. Gruber's signature, beneath the handle of the featured stein. Note the incorrect spelling of Auerpergstraße. Current maps show the spelling as Auerspergstraße and since the street was named after Prince Adolf Auersperg, this was certainly a decorator's error.