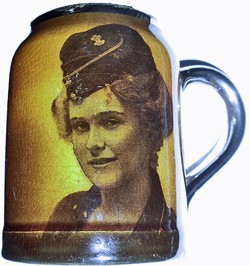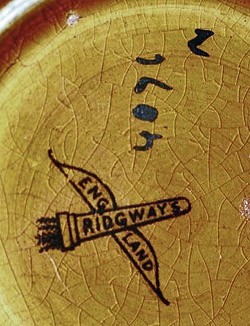 This mark on the featured stein above,
with "England", is post 1891.


This stein is part of a range using images by permission of the publishers Macmillan & Co. Ltd. The Coaching Days and Coaching Ways series was created on an amber brown transferware pottery with black transfers. Dated between the 1890s to the 1920s. The series features illustrations chosen from ones by Hugh Thomson & Herbert Railton, that were contained in the book "Coaching Days and Coaching Ways" by W. Outram Tristram. Reference


Basemark on the featured stein, left.
This mark, Burley & Co. is on the underside of the porcelain insert of the lid on the "Coaching Days and Coaching Ways" stein, indicating that it probably was lidded in Germany prior to being exported to the United States.