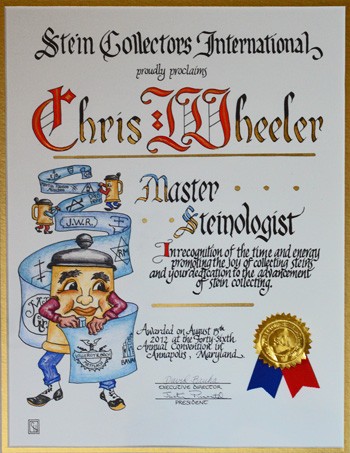 Stein Marks is an independent site which has been created and will be maintained "free to view" for the benefit of all Stein Collectors. It lists all names alphabetically, by location and also attempts to list by category. In addition, there is a "Logo Identification" page, which helps you identify your stein, even if there is no recognisable name or initials. Where you see an underline, that is an indication there is a live link, either to an associated page or document in Stein Marks, or to an alternate website holding further information.
Stein Marks is the life work of master steinologist Chris Wheeler. As from October 2022 it is continued by Paul van Eck.
Chris Wheeler's initial vision for Stein Marks was for an on-line, colour photograph based, version of Les Hopper's previous work. However the flexibility of the web allowed him, very quickly to expand that original concept. To engage new followers to the hobby, Chris has added sample steins or lids, so that they can easily view the richness and vast variety of the pieces available. With Locations and Categories Chris hopes to help the research possibilities for more serious collectors. Chris has also added company and personal histories, in which he has attempted in most cases to utilise the contents of contemporaneous documents supplied to him, rather than rewrite more modern publications.
"Language has been, and still is my biggest problem; however I have gained many friends along the way who are willing to help where necessary. This project has taken me to places I never expected to go, requiring me to study political, commercial, social and cultural history, demonstrating where for instance, Europe has been torn apart and reformed over the centuries and includes the diaspora of more than one ethnic group; together with the geography of two continents.", Chris said.
In 2010 Chris Wheeler received the annual Service Award from Stein Collectors International (SCI) for the establishment of Stein Marks. Then in 2012, Stein Marks was further appreciated, with SCI's premier annual award; the title of "Master Steinologist" given to Chris Wheeler.
Stein Marks is not just the work of one man. It would have got nowhere without the help and assistance of many people both inside and outside the stein collecting community. Therefore Chris dedicated this award to all those people who have helped with both photographs and the results of their research. Without them it would never have happened, he said.
Stein Marks is being continued by Paul van Eck and will always be a work in progress, so we look forward to collaborate with an even wider cross-section of stein collectors in the future.
Chris Wheeler. 18th April 2021. Worcestershire, U.K.
Paul van Eck. 22 September 2022. The Netherlands
Notice of Copyright
The contents of Stein Marks, subject to prior permission, may be used in part or in full, given a reference or link being placed into the user's work, covering the relevant page/s in Stein Marks. In turn, it would be appreciated if those using that information would share any resulting further research with the author, for inclusion into Stein Marks.