Carl Eberlein und Co.
Neumannstraße 8, Grombühl, Würzburg, Bavaria
Maler / Artist-Painter.`
Carl Eberlein, was born in 1872 and died in Würzburg in 1937. He was a supplier of militaria; which included Pictures, Beer Steins and Tobacco Pipes, produced "in House", for both retail and wholesale. He founded his company in 1900, but his marketplace dried up in 1914, when the troops were posted away from Bavaria to both the Western and Eastern fronts.
Purchased stein bodies from: ?
Reference: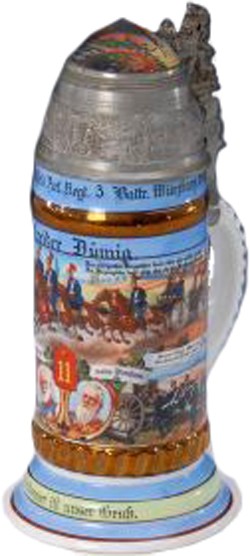 "Kgl. Bayr. 11. Feld Art. Regt. 3. Batt. Würzburg 1910-12" Signed: Carl Eberlein. Würzburg.(Missing screw top.)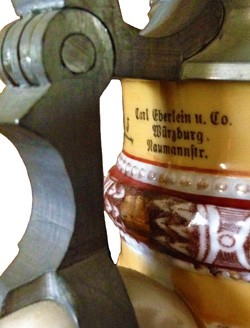 Artist's identification on featured stein.