Julius Kohlheyer

Nackstraße 46, 1st floor Residence & 46H - Hintergebäude or Back building - Business, Mainz, Rhineland-Palatinate.
Glas-, Porzellan- u. Lampengrosshandlung / Wholesaler of Glass, Porcelain and Lamps
Julius Kohlheyer's DRGM was granted in 1912 and his address is as listed in 1925.
Steins manufactured by: ?
Reference: mainzer-brauereien.de Stadtarchiv Mainz Nikolaus Nack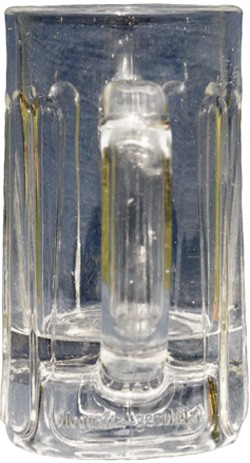 Ribbed press glass beer tankard,available in 5/20ths litre and 7/20ths litre sizes. "Moguntia geschützt", below the handle. Moulded words "D.R.G.M. N.499782" arranged in a circle on the base. Also inside this circle the letter "K" inside a Brewer's Star.
Neunte Beilage zum Deutschen Reichsanzeiger und Königlich Preussischen Staatsanzeiger. Nr. 63. Berlin, Montag, den 11. März 1912.Zentral-Handelsregister für das Deutsche Reich. Gebrauchsmuster.64a. 499 782. Gefäss in moderner Form zwecks besserer Reinhaltung. Julius Kohlheyer, Mainz, Nackstr. 46 15.2.12. K 51 91864a. 499 782. Vessel in modern form in order to be easier cleaned. Julius Kohlheyer, Mainz, Nackstr. 46 15.2.12. K 51 918