Lipper & Mann

225 Fifth Avenue, New York, New York State, United States

Importer
Founded in 1946, with their showroom on the seventh floor at 225 Fifth Avenue, New York, Mr. Lipper, Mr. Mann, and several sales representatives sold merchandise to leading department stores, independent shops, jewellry stores and home furnishing stores. Starting in 1949, merchandise is shipped from overseas factories to the Lipper warehouse at East 29th Street, New York. They began importing figurines and tableware in porcelain and earthenware from Japan.
In October 1963, Mr. Lipper purchased full interest of the company from Mr. Mann and the corporate name was changed to Lipper International, Inc. plus
the warehouse was relocated to 22nd and 3rd Avenue and they employed a warehouse manager, a dozen warehouse workers and six
book keepers. The expansion allowed them to start importing wooden items and stainless steel tableware. In 1981
Lipper International purchased a 75,000 square foot building in Wallingford, Connecticut and moved their corporate office and warehouse to this location. They are still in business today.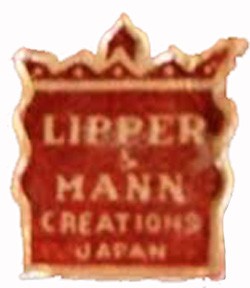 Adhesive Label on a different item.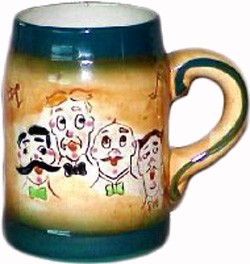 Decorated Tankard, dated 1950's?
Importer's mark on the base on the tankard.