Anton Lang (Ant. Lang und Sohn) (
Töpferei
Barbara Lampe
)
Theaterstraße 2 / 2a, Oberammergau, Garmisch-Partenkirchen, Bavaria.
Kunst-Töpferei / Art Pottery.
Anton Lang (b.17th January 1875 - d.30th May 1938) was an art potter who was also a prominent actor in the "Passion Play", between 1900 and 1934, hosted in Oberammergau. He played the central role of Jesus Christ in 1900, 1910, and 1922. He was also the prologue speaker for the play in 1930 and 1934. Anton worked as a potter with his father Rochus Lang in a house in Dorfstraße, which today is the Hotel Wolf. Karl married in 1902 and had three sons, Karl, Anton Jnr. and Gottfried (Friedl). He also in 1902 built the house at Theaterstraße 2a, which is still the family home and business address today.
Karl (b.1903 - d.1990) took over his father's pottery circa 1935, and continued the pottery after his father's death, until his own retirement in 1975. Meanwhile Karl's daughter, Barbara (b.1949), had been preparing for her own career from 1965. She had been apprenticed to other potteries and was taking her Master's examinations up until 1972 . She then joined the family pottery and collaborated with Karl up until his retirement, after which Barbara ran the pottery with her husband Ulli Lampe, and in 1995 it was renamed Töpferei Barbara Lampe. Whilst Barbara has three sons, each of them have made their own way in the world, so the pottery will close when Barbara retires.
Meanwhile Anton Jnr. and Gottfried (Friedl) had left to go to the United States prior to WW11 and became U.S. citizens and college professors. Oberammergau is a small village about 10 miles north of what were the twin towns of Garmisch & Partenkirchen which were combined in 1936, in order to give the 1936 Winter Olympics greater Identity.
Reference: Wikipedia Collector's Weekly Töpferei Barbara Lampe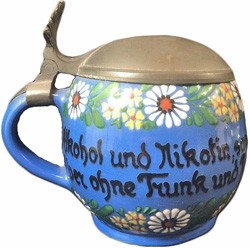 Side view of stein.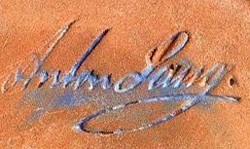 Anton Lang's hand incised signature, on the above stein. Dated 1910 - 1938.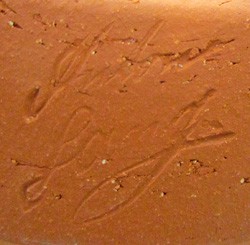 This signature was used by Karl Lang and by Barbara Lampe, up until 1996.
Later paper label showing Ant. Lang und Sohn, dating it to the late 1920's to postwar?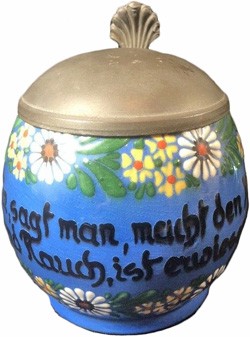 Akohol und Nikotin, sagt man, macht den Menschen hin, aber ohne Trunk und Rauch, ist erwiesen sticht man auch. "Alcohol and nicotine, it is said, makes one a mess, but without drinking and smoking, it is proven also to give one pain".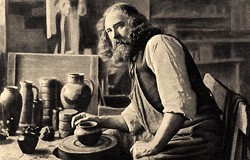 Anton Lang at work in his pottery, circa 1910.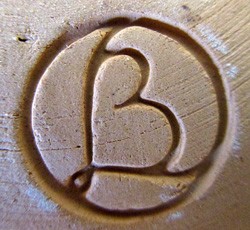 Barbera Lampe ran the Lang pottery from 1995 Töpferei Barbara Lampe pottery from 2007 onward.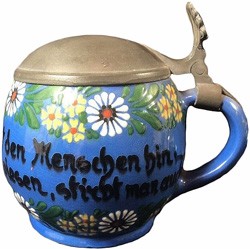 Side view of stein.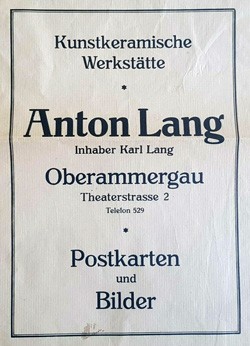 "Ceramic Art Workshop - Anton Lang - Proprietor Karl Lang - Oberammergau, Theaterstraße 2, Telephone 529, Postcards and Illustrations". Printed on a 27 cm x 32 cm envelope. Post 1935.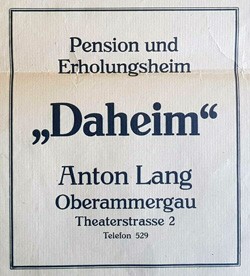 "Boarding House and Convalescent Home - "At Home in One's Own Country" - Anton Lang, Oberammergau, Theaterstraße 2, Telephone 529". Printed on a 27 cm x 32 cm envelope. Post 1935. ×