Rudolf Wächter
Kirchenlamitz, Bavaria
Porzellanhersteller und Dekorateure / Porcelain manufacturers and decorators
Rudolf Wächter (b.13/12/1868, Rauenstein). He served his apprenticeship between 1881 & 1885 at Porzellanfabrik Gebrüder Schoenau in Hüttensteinach and worked a further eight years as decorator for the factory in Kahla. In 1893 Wächter founded his own decoration business in Hüttensteinach. In 1913 he moved to Kirchenlamitz where in 1914 he formed a short lived partnership with Erhard Fürbringer. During WW1 most men joined the army, including Erhard Fürbringer, so from 1917 Wächter was again a sole trader. On Jan 2, 1919 Franz Schaller (b.6/7/1895, Kirchenlamitz) joined the company. By October 2nd he had married Elly, one of Wächter's daughters. They started their own porcelain production around 1925 which eventually evolved into a company speciality of silver overlay on porcelain. In 1930, Franz Schaller became director, and then joint owner in 1938. Due to good business decisions, the company did quite well during WWII. However Rudolf Wächter died in 1942. The company was now owned by Franz Schaller and the widow Fanny Wächter. Following WWII the company decorated lidded beer steins. The raw 0.5 litre steins were bought from a company in Altenkunstadt and decorated by sixteen to eighteen people from a retraining course. New electric glazing ovens were installed in 1950. By 1955 the Wächter company had 114 normal workers and 16 salaried employees. The late 1950's saw the replacement of silver decorations through matt and high polished gold decorations during the late 50's. After Fanny Wächter's death, from January 1st 1962 Franz Schaller became sole owner. During this period the company also had its largest workforce, between 200 and 220 people. However by 1971, trading conditions had deteriorated to the point that by early 1974, the factory closed.
Reference: Porcelain Marks and More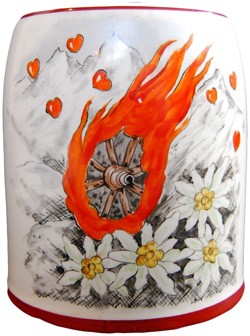 0.5 litre Porcelain stein, dated circa mid 1950's to early 1960's.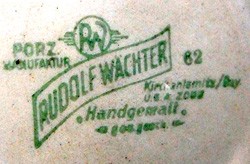 Basemarks on featured stein