Krystallglasfabrik Frauenau (Inhaber Isidor Gistl)
Handelshof 96, Frauenau, Bavaria
Preßglaswerke / Press glass factory

The Kristallglasfabrik Frauenau I. Gistl was a glassworks which for about 50 years was the largest employer in the area of Frauenau. Isidor Gistl (b.1868-d.1950) leased the Poschinger hut in Frauenauer district Moosau from 1906 until after the First World War with great success. From the spring of 1924 he ran in his own glassworks, which he had built directly next to it.
"Gistlglas" soon became a quality term that consolidated the reputation of Frauenauer Glas worldwide. Hollow glass was produced in a maximum of three ovens. During the Great Depression in the late 1920s, all ovens had to be extinguished. After the Second World War, the business went well. The business employed up to 500 people until the mid-1960s, which also increased the population of the community Frauenau. Komistienrat Gistl had gradually built over 150 employee houses.
When Gistl died in 1950, his wife Pauline continued to operate the business until her death in 1959. Her heirs continued to run the business until the economy became difficult. They sold the Gisthütte in 1970 to the group Sils van de Loo & Co, which had been owned by the Spiegelauer glassworks since 1963. Since then, Glashütte Gistl has been operating as Plant II of Kristallglasfabrik Spiegelau GmbH. In 1971, manual hollow glass production was relocated to Spiegelau and an automatic production line was installed in the Gistlhütte. As a result, the number of employees has fallen to around 120. The renowned company Nachtmann bought the Spiegelauer Hütte in 1990 and the Gistlhütte with it. Nachtmann was then taken over by Riedel Glas in 2004.Some of the outbuildings, such as the former Hafenstube, today house the internationally renowned Kunstakademie Bild-Werk Frauenau. In the former glassworks inn, there is the Gasthaus Gistl , where numerous cultural events take place.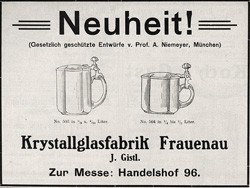 6 sided pressed glass steins with lids shown, presumably sold to Munich vendors.Advert from Glas Musterbuch, dated August 1910.