Andreas Stockhammer (Inhaber Karl Stockhammer)
Ro
ßmarkt 17, Ried im Innkreis, Austria
Geschirr - Handlung / Tableware Vendor

The Stockhammer family consisted of the father
Andreas and his three sons,
Adolf, Karl and Otto. They were all listed as merchants.
It would appear that whilst Karl stayed in Ried with his father, Adolf and Otto moved to Salzburg and opened
their
business in Vierthalerstraße 3, in 1898. Meanwhile Andreas died in April 1919 and his son Karl died, aged 49, in August 1920. It is assumed that Karl's son, also named Karl, inherited the family firm and property. We know for certain that he was in business in 1939. There is currently no tableware company listed at that, or any other address in Ried today.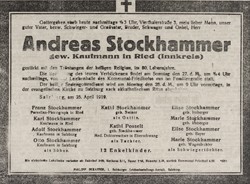 Andreas's Stockhammer's obituary in local newspaper, dated 25th April 1919.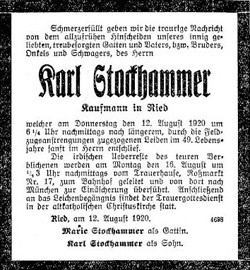 Karl Stockhammer's obituary in local newspaper, dated 12th August 1920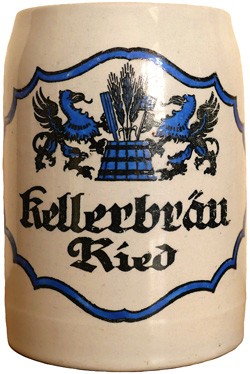 1/2L. Villeroy & Boch - Mettlach #1526, "Kellerbrau" brewery stein, dated 1931. It is likely that this stein was supplied by Gebrüder Stockhammer of Salzburg.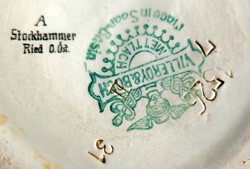 Basemarks of the stein above: A. Stockhammer, Ried am Imkreiss. V&B-M #1526 & Mercury mark and date stamp 31.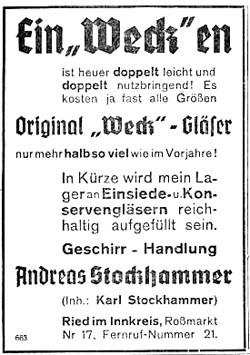 Advert from a newspaper dated May 1939. A wake-up call is doubly useful this year! Glass conserving jars will be only half the price of last year. Large amounts of new stock coming in!