Johann Tischler
Schwarzspanierstraße 5, Stairway 6, 9th district of Vienna. Austria
Zinngießermeister & Glazer / Master pewterer and glazier
Johann Tischler was born on May 16, 1841, in Zwiesel, Bavaria. It is thought he married his wife Barbara, née Mentschel, in her place of birth,
Böhmisch-Leipa in Bohemia, which is now called Česká Lípa, Czech Republic.
He came to Vienna around 1885, first evidence in 1888 at the trade exhibition in the Vienna "Rotunde" (a domed structure built in 1873 for the World Exhibition in Vienna - was the largest in the world at the time! It burned down in 1937). In 1890 he was fined 25 "Gulden" (Austrian currency at that time) for "violating physical security" (health hazard) for containing too much lead in his pewter lids. He obviously turned his pewter quality around, because in Christmas 1898, his pewter products were praised as solid and of excellent quality. Nothing else is currently known about Tischler's company, after this date. He died on June 14, 1916 in Vienna.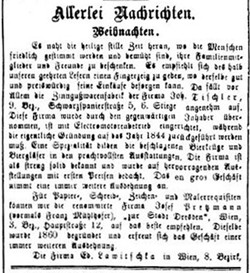 Vienna Newspaper Advertisement Christmas 1898The pewter factory of Joh. Tischler, 9th district, Schwarzspanierstraße 5, 6th staircase, is particularly striking. This company was taken over by the current owner and is equipped with an electric motor, while the actual foundation can be traced back to 1844. A speciality is the lidding of beer mugs and beer glasses in the most magnificent equipment. The company is extremely solid and was awarded first prizes at excellent exhibitions. The wholesale business continues to expand.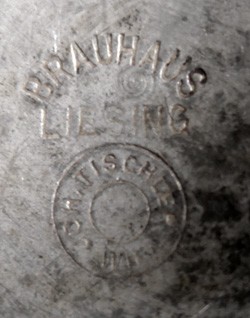 Cast marks on the underside of the lid, on right, on the featured stein. BRAUHAUS LIESING JOH. TISCHLER. WIEN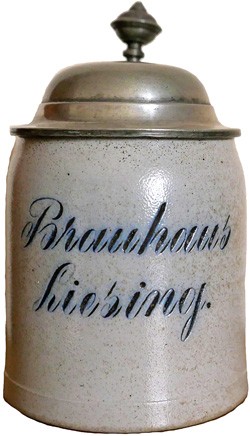 Merkelbach & Wick 1/2 L. "Brauhaus Liesing",from the Liesinger brewery in Vienna around 1900.Courtesy of Bernd Eisenmann.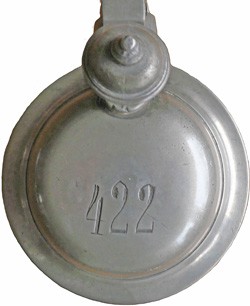 Inscribed 422, denoting the Brauhaus's stein stock number, on the featured stein.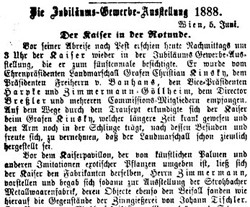 5th June 1888: In front of the Kaiser Pavilion, which is surrounded by artificial palm trees and imitations of erotic plants, The Emperor introduced himself to the manufacturers of those products, and then went to the exhibition of thatched roofs, a metal goods factory, whose objects received applause as also were the items displayed by Pewterer Johann Tischler.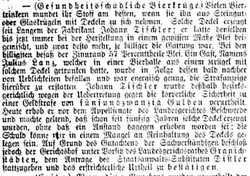 1890: Harmful to your HealthMany beer drinkers prefer to drink from earthenware or glass tankards with pewter lids. Such lids have long been produced by Johann Tischler. He had added 57% lead to keep the cost down. A guest, named Julius Lanz, who had been drinking in a beer hall from a stein with such a lid, had been taken ill and was keen to file the criminal complaint. Tilscher was fined twenty five Guilden for violating the law. Today, he filed an appeal of the regional court, arguing that such lids had been produced for fifty years without any complaint. It was probably due to a lack of cleanliness of the lid. On the basis of the expert opinion, however, the Court of Justice, decided to grant the request of the Prosecutor confirming the fine.