Teplitzer Chamotte Waaren-Fabrik (Inhaber Josef Strnact junior)
Teplitz-Schönau, North Bohemia, Austria-Hungarian Empire, then German Sudetenland, now Teplice, Czech Republic
Hersteller / Manufacturer
In 1881 Josef Strnact founded a terracotta, majolica and faience factory, which mainly produced decorative tiles, as well as a porcelain decorating shop.
He purchased the Anton Heller (b.1837 - d.1901) factory in Teplitz in 1895. The business lasted through to 1934.
References: Porcelain Marks and More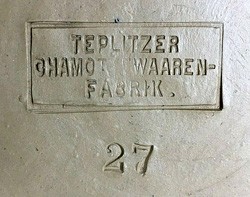 Teplitzer Chamotte Waaren-Fabrik. Mould #27. Basemark on the featured stein.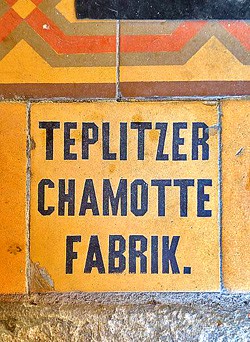 Signature tile on an exterior wall display.

1.5 Litre dispensing stein #27 dated circa 1895. "Ein echter Zecher der steckt fein, der Schlüssel zum Haus Morgens ein". The above is written in the local dialect, and gives the meaning without being grammatically correct: "A true drinker has no problem fitting the key in the lock on his front door, the next morning".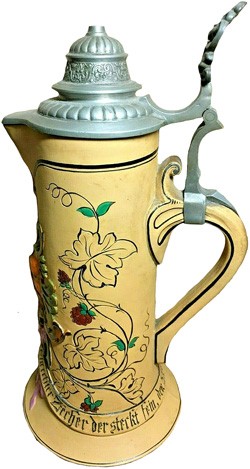 Side view of featured stein