August Schleich
Munich, Bavaria

August Schleich (b.1814, Munich; d.December 26, 1865) was a German animal painter, and lithographer, son of the engraver and mapmaker Johann Karl Schleich (b.1759-d.1842) . He was brother of the engraver Karl Schleich (b.1788-d.1840) and also Adrian Schleich (b.1812-d.1894). August studied at the Royal Academy of Arts in Munich. He dealt almost exclusively with animal painting. He invented "smoke painting" on a layer of soot created by a candle flame on a plate or sheet of paper. Highlights were pulled out by scraping, which resembled a mezzotint of shaded art. The finished image was sealed with a layer of varnish. The procedure was also imitated by the Munich animal painter Eugen von Kramer. August Schleich also created etchings and lithographs.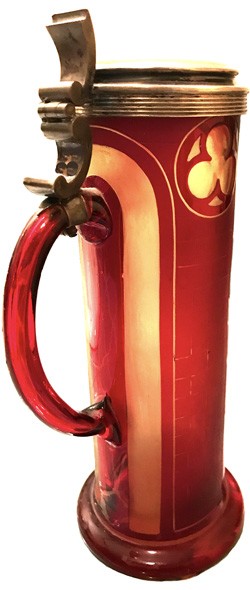 Bohemian Uranium glass stein with Ruby Cameo Cut Overlay. The pewterer is unknown, but is one that August Schleich decorated for.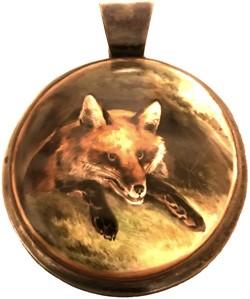 Porcelain insert in pewter lid. Insert decorated by August Schleich.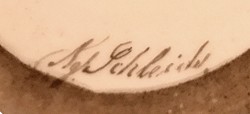 Signature of August Schleich on the underside of the lid.

The stein is not signed, and is from an unknown Bohemian glassworks. Whilst August's brother Karl was an engraver, he specialised in copper and steel, not glass, therefore he was unlikely to have been involved. The lid ring has been removed in this view.