Johann Georg Pilz (Witwe) (Gebruder Pilz) (Georg Pilz)
Mannheim, Baden. (Now Baden - Württemburg)
Zinngiesserei / Pewterer
Johann Georg Pilz was born, in 1811, in Almerswind in Sachsen-Meiningen. His apprenticeship was with H.A. Buhmann of Coburg from 30 July 1831 to 31 October 1834, so his Zinngiesser certificate was dated 1 November 1834. In 1840 he purchased from the widow of Carl Wilhelm Seiffert, the Mannheim based pewterer, the business together with all the tools and supplies. He ran the Zinngiesserei in Mannheim between 1840 &1860. After his death, his widow ran the company until her death in 1873. Afterwards her sons Friedrich (b.1843) and Johann (b.1848) formed a new company in 1874 changing the name to Gebruder Pilz. Eventually Friedrich became the sole owner. Georg Pilz (b.1851) featured in the Mannheim address books from 1880, but only joined the family company in 1899. In 1908 he took over the management of the company under his own name, George Pilz. He died in 1916. The company and the last Zinngiesser in Mannheim died with him.
References:
Hintze,Vol.6.Nos.348, 352. & 355.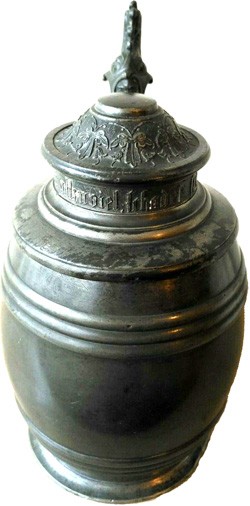 1/2 litre all pewter stein, date range 1874 - 1908.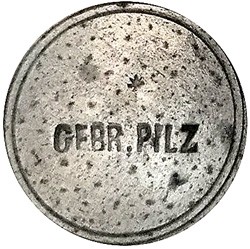 Basemark on the pewter stein above