Buckauer Porzellanmanufaktur
Buckau bei Magdeburg, Saxony, Free State of Prussia. (Now Saxony-Anhalt).
The Buckauer Porzellan factory was founded in 1833. By 1844 they had 200 employees, four kilns and their own porcelain decorating facility. Buckau was originally an outlying village but was enveloped and then incorporated into Magdeburg by 1877. Buckauer produced a wide range of finely decorated porcelain tableware, toilet items, vases, pots and a few steins. External designers were employed at various times, Professor Friedrich "Fritz" von Heider being one. They survived the business slump caused by the lack of available labour during World War 1, but ceased production in 1926 due to the worldwide depression. By 1930 the company was liquidated.
References: Buckauer Porzellanmanufaktur. Porcelain marks and more.
The information and pictures on this page were selected from the complete article written by George Schamberger, SCI Master Steinologist, which was published by Stein Collectors International's quarterly publication, "Prosit", dated September 2020, and found on Page 18.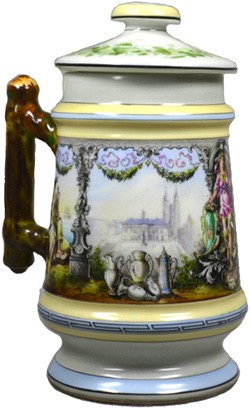 Right hand view. This tableau has a collection of porcelain wares, including a dispensing beer stein. In the background is the Alter Markt with the Rathaus behind. You can also see the twin towers of the Johanniskirche to the right of the Rathaus.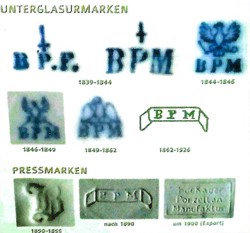 More Buckhauer Porzellanmanufaktur marks. ×
The main tableau is of the "Jungfrau of Magdeburg". Magdeburg's name is a conjunction of "Magd" Maiden and "Burg" Fortified castle. Underneath in the cartouche is the date 1895.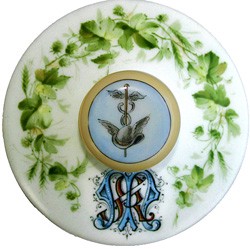 Top view of the set on lid. The central motif is the Caduceus of Hermes with his winged helmet is representing trade along the river Elbe and elsewhere. ×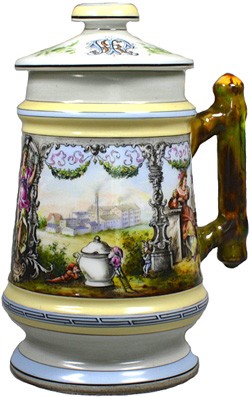 Left hand view. This tableau shows a tureen attended by three dwarves, with the Buckauer Porcelain factory in the background. This stein has a very faint base ink stamp in the pattern and colour shown below. The handle seen here has been seen on at least one other Buckauer stein.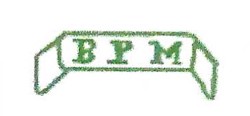 This illustration shows the ink stamp in green, dated between 1862 & 1926. Circa 1890 an impressed version of this mark was also used.