J.L. (Jakob Leopold) Knoedgen /
Knödgen-Keramik J. L. Knödgen GmbH & Co. K.G.
Weiherstraße 1-3, Ransbach, Hesse-Nassau, Prussia. (Now Ransbach-Baumbach, Rhineland Palatinate)

Steinzeugwaren und Kunstterrakotten / Stoneware and Terracotta art.

J.L. Knoedgen was the son of J.A. Knödgen of Bergstraße 6, Höhr. Jakob Leopold Knoedgen founded his company in 1891 or 1892 at Weiherstraße, Ransbach. By 1910 he employed 45 workers. Knödgen produced stein/s with the impressed D.R.G.M No. 1000. J.L.Knödgen never applied or registered this "patent", according to Deutscher Reichs-Anzeiger und Königlich Preussischer Staats-Anzeiger, the number belonging to an entirely different company. Several versions of the JLK mark have been seen as marks both of the base, and in the case of figural steins, on the side. He was in a trading partnership with his nephew, one Herr Trees, in Bielefeld between 1920 and 1925. All steins sold through that partnership were marked Knoedgen & Trees, whilst Jacob continued to sell to the market independently. Jakob Leopold Knoedgen died in 1935, but stein production continued until around 1950. The company was sold circa 1995 to Römertopf Keramik GmbH & Co for the production of ceramic kitchenware.
The original factory has continued, now producing ceramic cookware under the name of Römertopf Ceramic GmbH & Co.
Reference:
Westerwald Adressbuch
Beerstein.net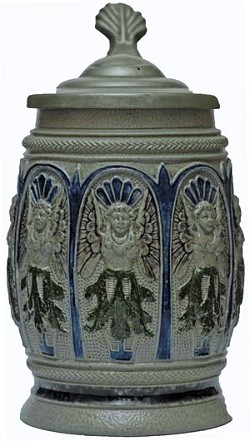 J.L. Knoedgen, Ransbach, Nassau.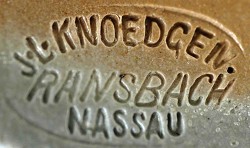 Basemark on the featured stein above.
Basemark used on the range of steins, which includes Falstaff, shown on the immediate right. It has been proposed that the above mark logically belongs to Jakob Leopold Knoedgen of Ransbach. It is used on the base of a range of figural steins, which include Falstaff, Sailor, Card player, Student fox, Drunken cat, Hunting rabbit, Student, Farmer, Night watchman, Soldier and Miner. The range is identified by the heads which are leaning mostly to their right, together with a plain flat topped, square section handle. Whilst this identification is most likely to be correct, no background proof has yet been seen, e.g. catalogues or price lists published by J. L. Knoedgen, incorporating trademarks.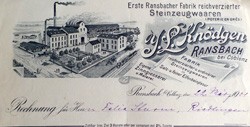 Letterhead of invoice, dated 22nd March 1901 "Fabrik reichverzierter und ordinärer Steinzeugwaaren in Salz und feiner Elfenbeinglasur"."Eigene Zinngießerei und Malerei".

J.L. Knoedgen #390. It has the "Jug in a Hexagram" as a base mark.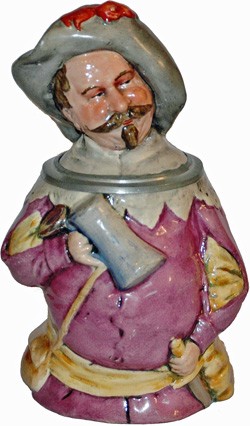 Falstaff, c/w the JLK/R base mark.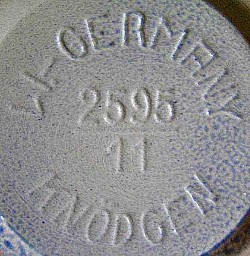 Modern mark 1949 - 1990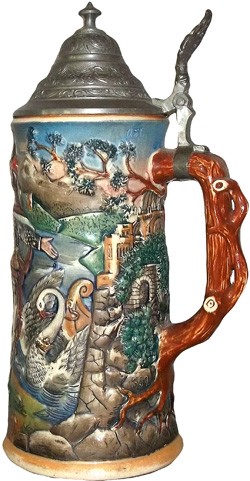 J.L. Knoedgen #390. Note distinctive handle. It has the "Jug in a Hexagram" as a basemark.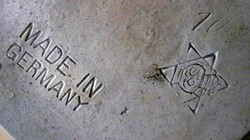 The "Jug in a Hexagram" mark on the above stein has now been identified and confirmed as such by J.L. Knoeden's grandson.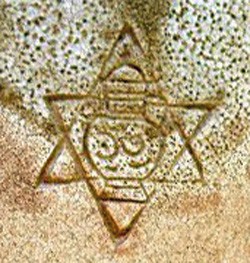 Basemark on J.L. Knoedgen #406A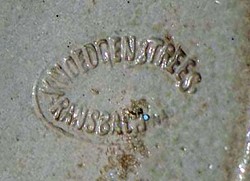 Knoedgen teamed up with a nephew, who lived in Beilefeld, North Rhine - Westphalia, between 1920 to 1925 in a joint marketing company. All steins sold in this exercise had the Knoedgen & Trees mark, as above. D.R.G.M. 1000 NOT registered to J.L. KnoedgenVierte Beilage zum Deutschen Reichs-Anzeiger und Königlich Preussischen Staats-Anzeiger. Nr. 282. Berlin, Montag, den 30. November 1891. Central-Handels-Register für das Deutsche Reich. (Nr. 282 A.) Gebrauchsmuster. 45. Nr 1000. Schnell wirkende Gesammt-Entkoppelungsvorrichtung für Vieh, bestehend aus einer durch feste Doppelösen und Einzeln-Entkoppelungsringe geführten leichten Holzstange. B. Marell in Friedrichshagen bei Berlin. 16. Oktober 1891 -M 50 45. NR 1000. Fast-acting total-decoupling device for cattle, which is made of a light wooden bar led by fixed double eyelets and single-decoupling rings. B. Marell in Friedrichshagen, near Berlin. 16 October 1891 -M 50