Rasper & Söhne / Heinl & Rasper
1,Weihburggasse 908 / 9 & 4, - 1,Graben 15, - 6,Mariahilfer Straße 13, 1,Habsburgergasse 1a & 10, Vienna, also Waagplatz 1, Salzburg, Austria.
Porzellanwarenhandel. / Porcelain Retailer.
The company was founded in Vienna, reputedly in 1832, by Gebrüder Haidinger as an outlet for the porcelain from their Elbogen factory in Bohemia. However, the earliest date found so far in the Vienna address books was at Weihburggasse 908 in 1859, but by 1864 the listed street number had been changed from Weihburggasse 908 to 9. In 1867 the shop was listed in the Vienna inhabitants directory as being owned by Carl Heinl. By 1876, Carl Heinl was still listed as the owner, but with Wilhelm Rasper as the managing director. In 1888, Wilhelm Rasper became co-proprietor and the company name was changed to Heinl & Rasper. Wilhelm Rasper Sen died in 1908. In 1912 - 1920 the company moved to Weihburggasse 4. Also in 1920 they opened another branch at Graben 15, where they stayed until 2007. The Weihburggasse branch was not listed after 1920.
The address book of 1921/1922 shows the company name still listed as Heinl & Rasper, but by 1923 the company name had become Rasper & Söhne with the original Wilhelm's son, Wilhelm (now called sen), and his two sons Wilhelm jun. and Robert Rasper as co-proprietors. In 1930 a branch was opened at Mariahilfer Straße 13, which was not a success, and closed in 1931. In 2007 they moved just around the corner from Graben 15 to Habsburggasse 10. In January 2009, the shop closed and the company of Rasper & Söhne was dissolved.
Today, a new company exists as Rasper Mode at Habsburgergasse 1a in Vienna, and is owned by Daniela Birkmayer, née Rasper, (b.23.2.1952)
Reference: Rasper Address book 1, Address book 2 Vienna districts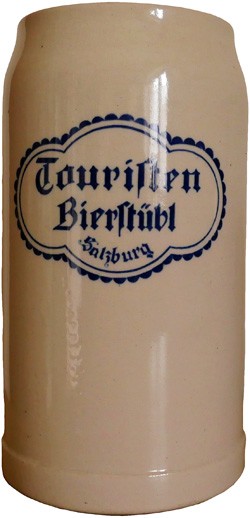 Touristen Bierstübel, Salzburg

Basemarks on theTouristen Bierstübel stein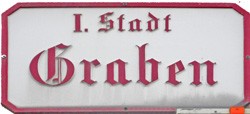 Innere Stadt or Inner City, which is District 1, Vienna, Graben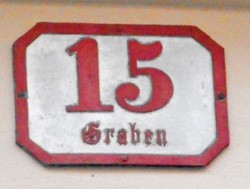 Graben 15, Vienna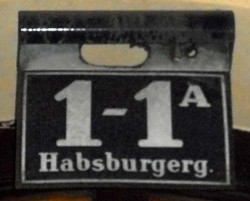 Habsburgergasse 1 - 1a, Vienna.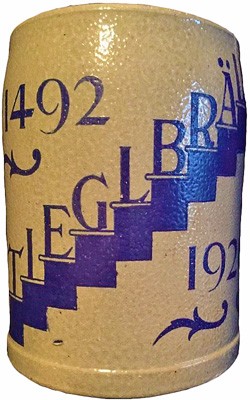 1/2 litre Commemorative brewery stein Stieglbräu of Salzburg 1492 - 1926 Also sold by Adolf Stockhammer of Salzburg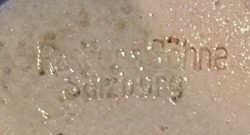 Basemark on featured stein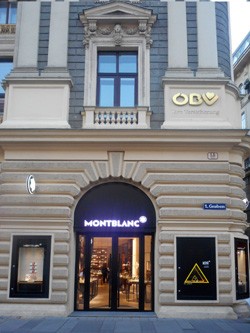 Rasper & Söhne, 1,Graben 15, Vienna,Now an outlet for Montblanc pens etc.Graben 15 is a corner shop and Habsburgergasse is around the corner on the right. Photographs taken September 2017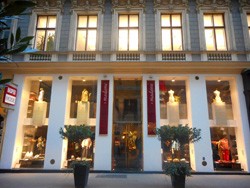 Rasper Mode at 1,Habsburgergasse 1a in Vienna. owned by Daniela Birkmayer, née Rasper,Photographs taken September 2017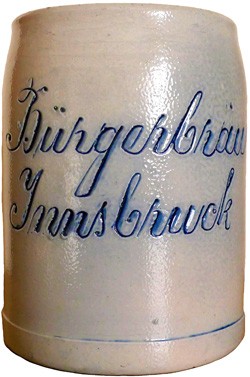 Bürgerbräu. Innsbruck

Basemark on the Bürgerbräu stein.
Ink stamp on the base of a chocolate cup, dated 1918 - 1919. Österreichische Porzellan Industrie A.G.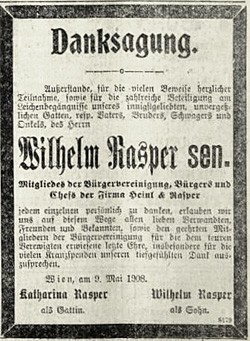 " Thanksgiving" Dated 9th May 1908.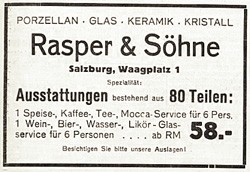 Dated 1938.