Kaufhaus Zinnerne Kanne Paul Reill GmbH & Co. K.G.
Obere Hauptstraße 59, then Neulandstraße 10, Freising, Bavaria.
Einzelhandel, Großhandel / Retailer, Wholesaler
Known dates: ~1890. Known owners through the years, Joseph Reill / Peter Reill / Paul Georg Reill. Trading to the current day.
Purchased stein bodies from: Merkelbach & Wick.
Reference: Paul Reill
Peter Reill, Fein Zinn, Freising.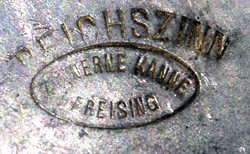 "Reichszinn" dated pre 1918."Zinnerne Kanne, Freising"