Kaspar Reischenböck (Inhaber Gustav Wienenger Jun.)

Dachauerstraße (155) 151, 48, 149 & 147, Dankhelstraße 13, Munich. Bavaria.
Militäreffekten - Geschäft, Zigarren- und Tabakhandlung / Military effects, Commercial Cigar and Tobacco retail
In 1898, Kaspar Reischenböck (Merchant) was in partnership with Josef Schindele (Porcelain dealer) at Dachauerstrasse 155, trading as Schindele & Reischenböch. However by 1901 Schindele had left both the the partnership and Dachauerstraße 155. Schindele moved to Landsbergerstraße 134 4th floor, working as a "Dienstmann" or Footman. Reischenböck also moved from Dachauerstraße 155 ground floor to Dachauerstraße 151 ground floor. In 1904 Kaspar Reischenböck located to No. 48 ground floor for the shop and the second floor for his residence. In 1906 he moved his residence to Dachauerstraße 149 1st floor, whilst the following year he moved his business to the same address. From 1909 he was located at Dachauerstraße 147. On the 21st May 1910 the company was purchased by Gustav Wieninger Jun. who moved the business in 1911 to the company premises of Gustav Wieninger Sen. at Aberlestraße 16. The company continued to trade as Kaspar Reischenböck Inhaber Gustav Wieninger jun. Reischenböck continued to reside at Dachauerstraße 147 until 1912, by which time he had moved to Dankhelstraße 13, 3rd floor (now called Danklstraße), only a minute's walk from Gustav Wieninger's premises. Kaspar Reischenböck as an employee of Gustav Wieninger was still trading in 1918. But by 1926 he was working on his own behalf again, working from and living at Dankhelstraße 13. He was still listed as a merchant in 1941, but by 1953 had disappeared from the record books.
Purchased stein bodies from: ?
Reference:
Purchased stein bodies from: ?
Reference: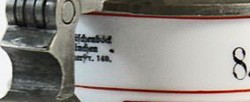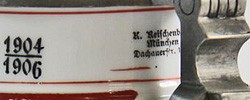 Featured stein showing K. Reischenböck, Dachauerstraße 149, Munich, dated 1906.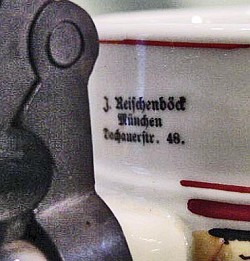 J? Reischenböck, Dachauerstraße 48, Munich, dated 1905.

8. Infanterie-Regiment. Grossherzog Friedrich von Baden 9. Companie. Metz 1904 - 1906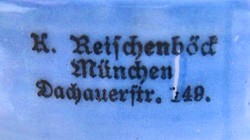 K. Reischenböck at Dachauerstraße 149. 1904 - 1906. 11. Feldartillerie Regiment. 5. (E) Batterie. Würzburg.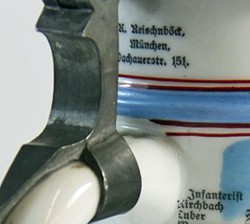 K. Reischnböck (note spelling) at Dachauerstraße 151, dated 1902.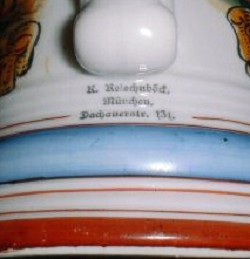 K. Reischnböck (note spelling), Dachauerstraße 131?, Munich, dated 1901.