Friedrich Christian Greiner & Söhne / Rauensteiner Porzellanfabrik (A.G.)
Rauenstein bei Eisfeld. Thuringia.
Hersteller / Manufacturer.
The original company was founded by three Greiner brothers, Johann Georg and Johann Friedrich & Christian Daniel Sigmund, on the 3rd March 1783 in the grounds of an empty castle, belonging to Duke George of Saxony-Meiningen. There was a plentiful supply of both labour and raw materials and they were guaranteed sufficient firewood for the kiln/s. Soon Rauenstein porcelain with its popular patterns such as blue onion, straw flowers and blue bird decoration was known far beyond the borders of Thuringia. By 1849, all the Greiner brothers having died, the shares were purchased by the merchant, Georg Heinrich Wirth, who appointed his son, Ernst Wilhelm Georgii to run the factory. Eventually, at its peak in 1881, the factory was run by Franklyn Georgii (b.1847 - d.1900). After 1893 the factory adopted the characteristic motifs of Delftware and marked it as such. The Dutch objected to the plagiarism and unsuccessfully sued the factory. Upon the death of Franklyn, the company changed its name and became an Aktiengesellschaft. After this time the factory went into decline, with its final firing in 1929. The factory grounds were purchased by the local municipality in 1930, with the company's production being adopted by Kahla in 1934.
References: Porzellan - Indischbleu Porzellangeschichte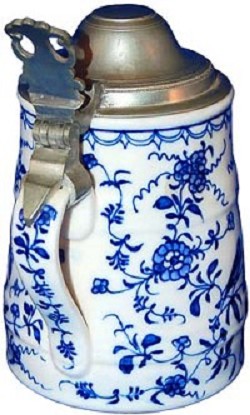 Rear view of featured stein.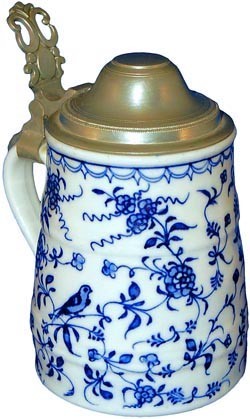 Indigo-Blue decorated porcelain stein, dated to the late nineteenth century.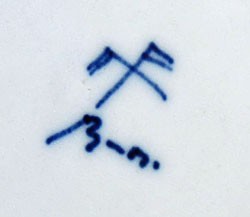 Penned ink base mark on the featured stein.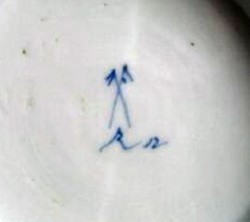 Penned mark, dated 1850 - 1897. It was withdrawn after 1897 due to complaints by Meissen.