Emil Sahm
Bahnstraße 13, which was renamed Westerwaldstraße 13, & Brunnenstraße 12, Grenzhausen, Hesse-Nassau, Prussia. (now Höhr-Grenzhausen. Rhineland Palatinate).
Steinzeugfabrikant & Zinngießerei / Stoneware manufacturer & pewterer
It is known that steins were purchased from Reinhold Hanke, so probably stein bodies were brought in.
Now a major glassware manufacturer.
Known dates: 1900 to the current day.
Reference: Sahm Westerwald Adressbuch
1/2 litre tankard "Gesundheit!"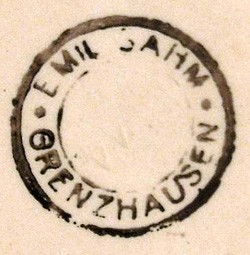 Basemark in black, on the tankard above.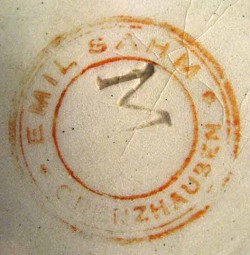 Red Ink stamp, dated 1929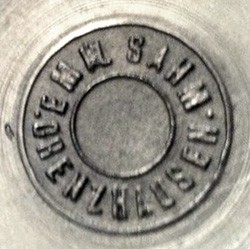 Cast mark on the underside of the lid on a modern 0.5 litre "Pfungstädter" stein.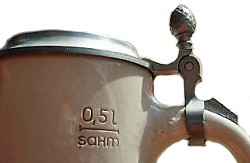 Modern sahm combined with the capacity mark.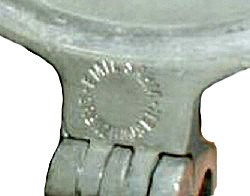 Emil Sahm, Grenzhausen on hinge assembly.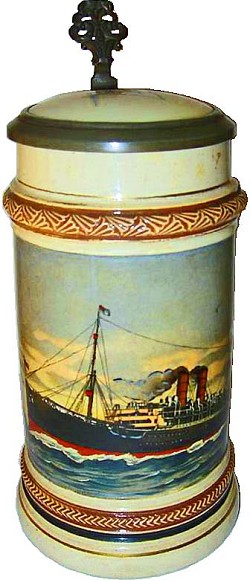 Norddeutscher Lloyd Lines. Stein #1023. This scene represents one of the Barbarossa class of ten ships launched between 1896 - 1901. This handed-painting-over-transfer has been seen on other steins, superimposed with ship's names from later classes.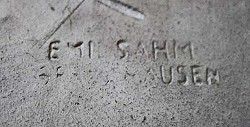 Impressed mark on featured stein #1023.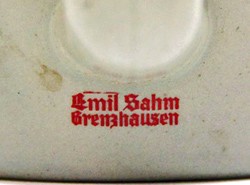 Ink stamp mark on military service stein.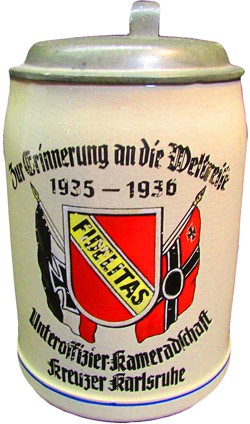 German military club, commemorative trip around the world, dated 1936.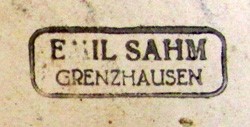 Ink stamp base mark on stein immediately above. The Ink stamp is still Grenzhausen, despite being 1936.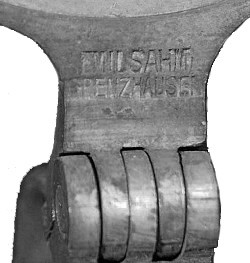 Emil Sahm, Grenzhausen on hinge assembly.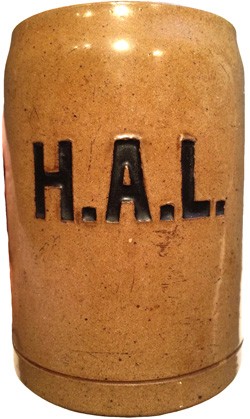 H.A.L. for the Holland America Line?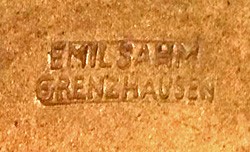 Impressed mark on the base of the above stein.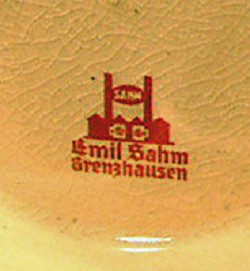 Ink stamp on base of a stein.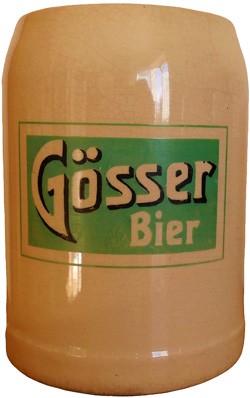 Brewery stein "Gösser Bier", based in Leoben, Styria, Austria.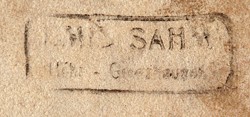 Base ink stamp on the Gösser Bier stein. The stamp shows Höhr-Grenzhausen, which would suggest that this stein is dated from late 1936 through to 1939/40.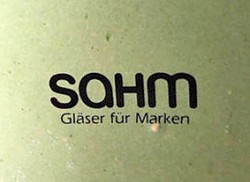 Modern Mark.