Majolikafabrik W. Schiller (& Sohn)
Obergrund, Bohemia, Austro-Hungarian Empire (now called Horní ?leb, a suburb of Tetschen, now Děčín, Czech Republic).
Hersteller / Manufacturer
Prior to running his own factory, Wilhelm Leberecht Schiller (born 1797) was in partnership from 1829 with Friedrich Vincent Meinulph Gerbing (b.1798) as Schiller & Gerbing, in a pottery in Bodenbach / Tetschen. Gerbing died in 1848 and his widow Karoline, an excellent business woman, took over running the company. Schiller could not work with Karoline Gerbing and left in 1850 to start his own factory, in Obergrund, just two miles down the river Elbe, specialising in majolica and terracotta items. Eventually, his son Eduard became a partner, and when Wilhelm died, Eduard became the sole owner.
The factory was closed by the Schiller family, at the beginning of WWI, due to lack of available labour. It was not reopened after the war's end.
Reference: Porcelain Marks & More Porcelain Marks and More 2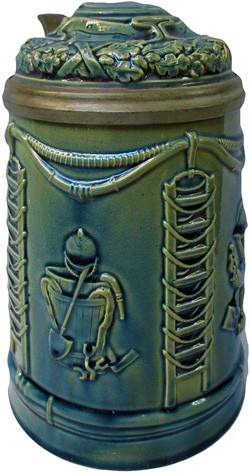 W. Schiller & Sohn #69 Front view.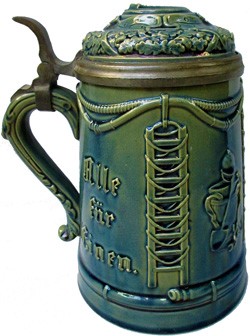 W. Schiller & Sohn #69 side view.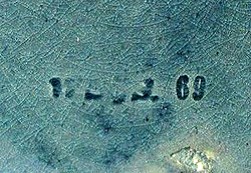 W. Schiller & Sohn #69 base mark.
WS&S, #68, dated circa 1880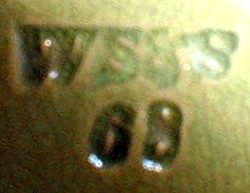 WS&S, #68, dated circa 1860, on featured stein above.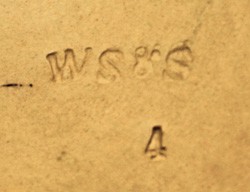 Impressed mark on a tobacco jar.WS&S #4, dated circa 1880.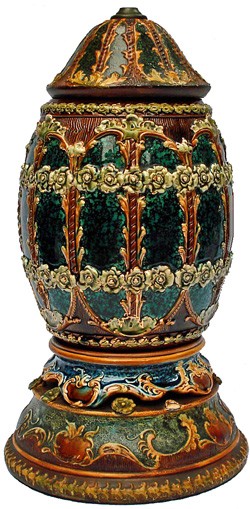 W. Schiller & Sohn #7622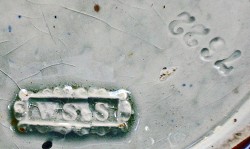 Applied mark on featured stein #7622.(above)
Impressed mark WS&S #35 dated circa 1880