(S.) F. Wölffel (Inhaber Wilhelm Fitzner / Therese Fitzner / Geschwister Fitzner)
Klosterstraße 32, Alexanderstraße 70 (C), Elisabethstraße 31 & 17, (NO, 1882-1902) & (NO18, 1903-1911) Barnimstraße 8 (NO43), Berlin, Prussia
(now the Federal City State of Berlin).
Zinngießerei: Spezialität Bierseidel-Beschläge / Pewterer: specialising in pewter fittings on beer steins.
The business was founded in Klosterstraße in 1853. Within one year S.F. Wölffel moved to Alexanderstraße, where he stayed until 1881. He then moved to Elisabethstraße 31 in 1882. Herr Wölffel retired in 1895 and the business was purchased by Wilhelm Fitzner. He then moved the business to Elisabethstraße 17 in 1906. Finally he moved again to Barnimstraße 8 in 1912. Fitzner passed on c.1918, because 1919 saw the business being run temporarily by his widow Therese until taken over by her children?, Margaret(h)e and Hans in 1921, and run as Geschwister Fitzner. The business probably closed around 1923.
Reference: Berliner Adressbücher Berlin Postcodes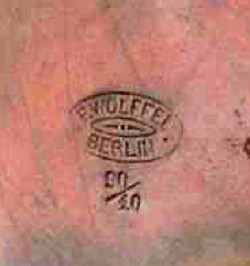 Touch mark on pewter lid, dated 1895 or before.