Max Zacher

Salzburg & Linz. Austro-Hungarian Empire. (now Austria)
Zinngießerei / Pewterer
Max Zacher was born on May 15th, 1839 in Passau, Bavaria. He was married to Maria Glasl on October 19th, 1861 in LInz. He also first appeared in 1861 as a pewtershop-owner at Goldgasse 47, just off the prestigious Residenzplatz in Salzburg. In 1862 he opened another shop, across the river Salzach at the Inn "zur golden Traube" in Linzergasse. His son also Max (II) was born on October 14th 1863. In 1874 he opened another business in Linz at Badgasse 7. Max Zacher died on April 5th, 1898 in Linz. Max Zacher (II) married Katharina Pölderl on May 14, 1898 in LInz. In December 1901 Max Zacher (II) was listed at Obere Donaulände 5, in Linz. He died on October 7th 1909 in Linz, and in April 1910, his widow Katharina received the license to trade glass and glassware at Obere Donaulände 5. Katharina died on October 3rd, 1929. The company of Max Zacher continued trading until 1932, presumably run by one or more of their sons, Willy, Heinrich and Franz.
Purchased steins from: ?
Reference: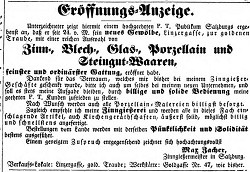 1862: Massive exhibition Of Pewter, Glass, Porcelain and earthenware, to be held in the Golden Grape Inn, Linzergasse. All porcelain decoration can be provided. My pewter foundry can make any article. Max Zacher - Zinngießermeister, Showroom: Gold Traube Linzergasse. Workshop: Goldgasse 47, as before.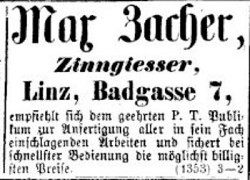 1874: Max Zacher recommends himself to clients for the production of all fine articles, and promises cheapest possible prices with the fastest delivery.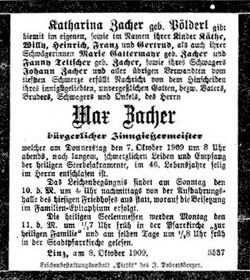 Obituary of Max (II) Zacher. October 8th 1909, by his wife, Katharina Zacher.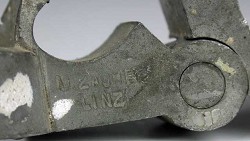 M. Zacher. Linz. Thought to be circa 1911.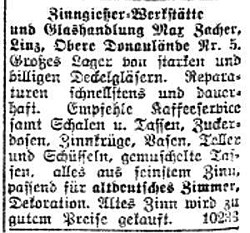 1910: Pewter Workshop and glass retailing Max Zacher, Obere Donaulände 5 Linz. Large stock of cheap lidded glasses. Repairs carried out quickly and permanently. Recommended full coffee and dinner services, all made of the finest pewter, suitable for 'Old German' room decoration. Pewter is supplied with a good patina.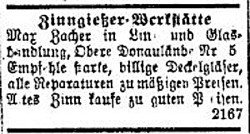 May 1911: Pewter Workshop Max Zacher for Pewter and Glass sales, Obere Donaulände 5 Linz. Workshop supplying cheap pewter lid supply, All repairs at economic prices. All pewter at good prices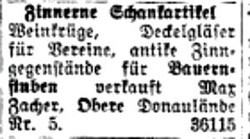 1932: Beautiful Pewter Items. Wine jugs, Pewter lids to keep beer clean. Fine antique objects sold for farmer's parlours. Max Zacher, Obere Donaulände 5.