Heinrich Julius Busse
Schmalzingergaße 5 & Harderstraße 19, Ingolstadt an der Donau. Bavaria.

Busse was born in 1861 in Böddinghausen, district of Neuenkirchen, Holstein. The ownership of the Duchy of Holstein together with the Duchy of Schleswig was being contested at this time between Denmark and the German Confederation. The combined Schleswig-Holstein was absorbed as a province of Prussia in 1868.
Busse practiced several professions during his working life. He worked as a bookbinder for a printing house in Würzurg (Bavaria) until 1897, and where he returned at the latest in 1921. As Busse was considered to be Prussian he sought and was granted Bavarian nationality in 1906. In 1907 he registered a business for "execution of orders for so-called reservist's beer steins" (Bestellungen für sogenannte Reservistenkrüge). As of 1911, he was listed as owner of a "Military Article Shop". However by 1914 all the troops were mobilised away from their home barracks which lost him his customer base and it is assumed that he closed his shop, because in 1914 he was listed as a merchant (Kaufmann). After WW1 and certainly by 1921 he had apparently returned to his traditional trade as a bookbinder. He died in 1939 in Ingolstadt.
Known active dates: 1907 - 1914.
Purchased steins from: ?
Reference: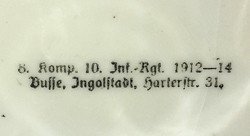 "8th Company of the 10th Bavarian Infantry Regiment". 1912-14, on the base of the stein above denoting service in the unrelated 3rd Bavarian Pioneer Battalion.